Power Handling(peak) 2400w
Power Handling(RMS) 300W
Frequency Response 29-3KHZ
Nominal Impedance 4 Ohms
Sensitivity 92dB
Voice Coil Diameter 65mm
Cut-out Diameter 351mm
Mounting Depth 188mm
Revc(Ohms) 3.12
Levc(mH) 1.56
Sd(cm2) 855
BL(TM) 15.25
Vas(Liters) 166.2
Cms(mm/N) 161.1
Mms(grams) 192
Fs(Hz) 28.2
Qms 6.55
Qes 0.47
Qts 0.44
Xmax(mm) 10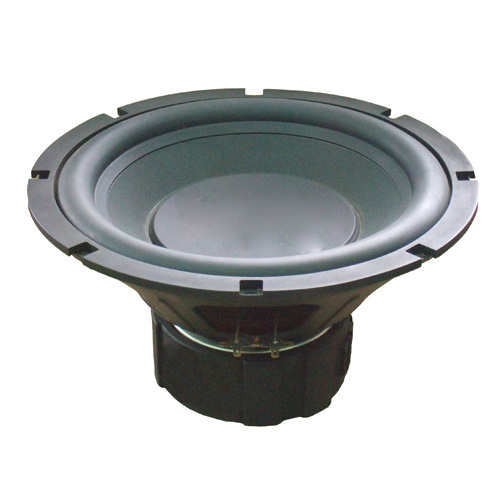 High-tech treated paper coat with diamond sparkle provides high volume playback, durability and sound quality.
Deep draw basket design for long excursion capability.
Rubber surround for long throw capability, durability and perfect cone suspension.
Vented pole piece for increased power handing and low dynamic comprression.
Progressive-Roll spider for improved power handling and ruduced distortion.
Double strack magnet motor assembly for maximum magnetic power and controlled, long throw cone excursion
Optimized for sealed enclosures for Sound Q
Optimized for vented boxes for SPL