Drive in storage rack, or drive through systems is recommended storage systems for similar loads with large quantities.
With this system your pallets are stored on the channels;
Forklift trucks load the pallets from back to front on the channels so your goods can be load and unload as a block;
Sliding conveyor parts are used instead of beams on this system;
Last loaded pallet is going to be first unloaded pallets (LIFO) in drive in system because of channel used from just one direction;
It is useable for companies who have regular circulation on their goods.
Advantages of Drive in rack:
1: The Drive-in racking are often designed for storing a big batch of goods with few type.
2: The forklifts can directly enter the lane (aisle) to store and retrieve goods ,which means only one passageway is enough for the warehouse;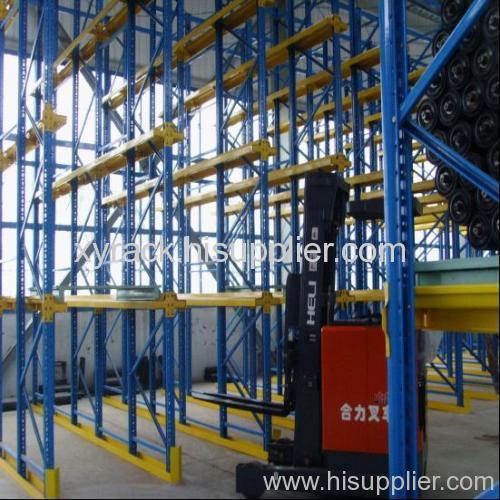 3: Space is more effectively used because the working passage for the truck and the storage space are combined together.
4: Pallets flow follows last-in-first-out rule;
5: Suitable for storing metal components and widely used in the manufacturing industry
Please inform us the listed questions in your inquiry for quick quotation:
1, The warehouse layout plans;
,2,The size of racking(length*width*height);
,3,How many lanes you want.
,4,How many layers for each lane that you want.
,5,The loading capacity of each layer.