VN1-36E indoor medium-voltage AC vacuum circuit breaker is a newest product designed by our company which is applicable to 3-phases AC50Hz, 36kV indoor switch systems. The product is with characteristics of smaller volume, reliable insulation, no pollution, long time free maintenance and so on. It is produced with standardized circuit breaker assembly line and has good performance and perfect quality.

Characteristics:
1. Equipped with modularized operating mechanism which make the maintenance and the replacing are more convenient. The replace of module do not affect the dynamic capability and also shorten the power-off duration.
2. The interrupter and primary circuit are sealed in the epoxy resin, which make the circuit breaker is more reliable.
3. The pole using converted and ventilated technique and lower resistance vacuum circuit breaker limit the temperature rising because of circuit breaker working for a long time and also reduce the power loss.
4. The operating mechanism is designed uniquely and avoid the moving contact over-rebounding when the circuit breaker is opened and prolong the vacuum interrupter mechanical life.
5. Past the type test according to the national standards, such as GB, DL, international standards of IEC, CEI, DIN, VDE and other major industrialized countries.
Main Technical Parameters of 36kV Vacuum Circuit Breaker
Rated Voltage
Rated Voltage
Ur[kV]
36
1min power frequency withstand voltage(effective value)
Ud(1min)[kV]
Between phase
or phase to the earth
95
Isolated
joints
118
Lightning impulse withstand voltage(peak value)
Up[kV]
185
215
1min power frequency voltage of the secondary controlling circuit
[V]
2000
Power supply of controlling circuit
[V]
AC220, DC220/110
Rated frequency
Fr[Hz]
50/60
Rated operating sequence


O-0.3s-CO-180s-CO
Rated Current
Rated current
Ir[A]
1250, 1600, 2000, 2500, 3150
Rated short-circuit breaking current
Ics[kA]
25, 31.5
Rated short-circuit making current
Iu[kA]
63, 80
Rated short-time withstand current
Ik[kA]
25, 31.5
Rated peaking withstand current
Ip[kA]
63, 80
Rated capacitor bank breaking current
[A]
400
Rated capacitor bank making current
[kA](4250Hz)
20
Mechanical character
Mechanical lifetime
Cycle
20000
Electrical lifetime


E2
Opening time
[ms]
20~60
Arcing time
[ms]
≤15
Full breaking time
[ms]
30~65
Closing time
[ms]
35~70
Frame of indoor withdrawable vacuum circuit breaker: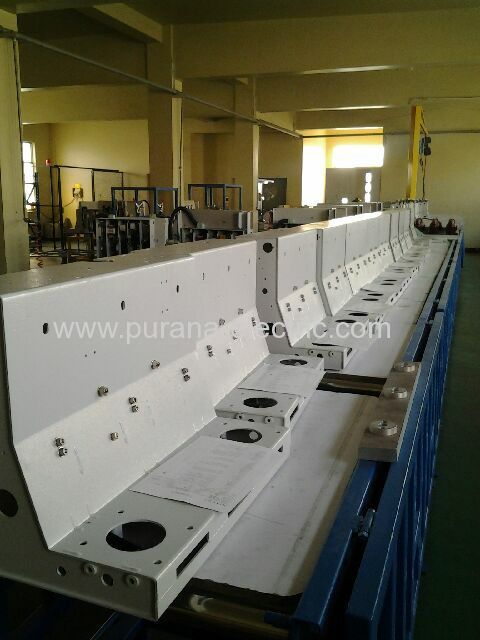 Indoor withdrawable vacuum circuit breaker production scenes: