Touch Screen Pocket PC Support Multiple Languages + G-Sensor Games + Fring/Skype/MSN
Quick Overview
Tablet PC, the strong trend have landed ePathChina. Due to extremely lightweight and handy characteristics, this tablet PC on ePathChina can be easily tucked under the arm and moved from place to place by anyone compared to laptops. Can you imagine how much does this tablet laptop weigh? It is only 350g. And it fit into tiny carrying cases which is so convenient to take. Now, let us try one kind of operation. Lightly click the display with stylus or your finger, you can run any application in this tablet laptop. With G-sensor function, no matter holding this tablet PCs transversely or vertically, the interface will change direction automatically. If you are dissatisfied with the storage of it, you can insert a SD card into this tablet laptop. It can not exceed the maximum capacity of 32GB. And the highlight of this device is the Google Android operation system 1.6. With this tablet laptop, you can work and contact with your relatives or friends anytime and anywhere. It will help you to express your feeling. Get a move on!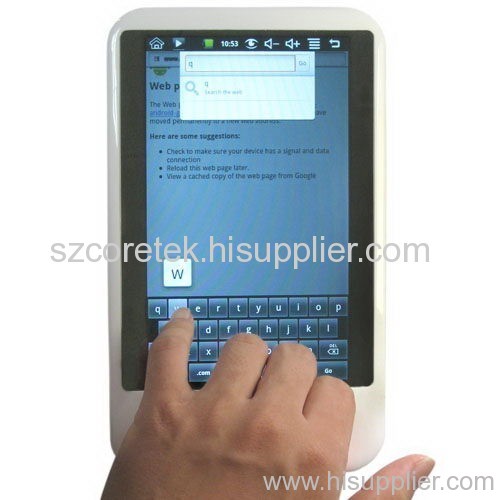 Details
Model: Eken M001
Operating system: Google Android OS 1.6
CPU: VIA VM8505 533MHZ
RAM: 128MB DDR2 800Mhz
Internal capacity: 2GB
Portable Small Tablet PCs, Touch Screen Laptop
Display: 7 inch 16:9 widescreen, 800 x 480 high-brightness TFT LCD
G-sensor function: The screen will change the direction automatically
Laptop Touch control: Full size touch operation, sliding menu, functional icon dragging
LAN: 802.11 b/g/n Wi-Fi CERTIFIED network connection
Sound effect: Stereo speakers device, Laptop built-in micphone
Support high-speed SD card (Max. 32GB)
File format:
- Audio: MP3.
- Video: 3GP. / FLV. / MP4.
- Image: JPG. / GIF. / PNG. / BMP
Laptop Languages: Bulgarian, Catalan, Croatian, Czech, Danish, Dutch (Belgium or Netherlands), English (Australia / Canada / India / Ireland / New Zealand / Singapore / South Africa / United Kingdom / United States), Spanish, Finnish, French (Belgium / Canada / France / Switzerland), German (Austria / Germany / Liechtenstein / Switzerland), Greek, Hebrew, Hindi, Hungarian, Indonesian, Italian (Italy / Switzerland), Japanese, Korean, Latvian, Lithuanian, Norwegian, Polish, Portuguese (Brazil / Portugal), Romanian, Russian, Serbian, Slovak, Slovenian, Swedish, Tagalog, Turkish, Ukrainian, Vietnamese, Traditional Chinese and Simplified Chinese
Desktop: Android, automatically change the wallpaper, update frequencies can be set to 1 hour to 6 days
E-book and Office word processing, Document to Go (Word, Excel, PPT, PDF)
Web browsing: Google chome-lite Browser, UCWEB Browser
E-mail: Mainstream Web Mail service G-mail / Yahoo Mail / Hotmail
Communication software: Fring, SkypeOut can call local call, long-distance call, overseas call and mobile call, MSN, Skype, Gtalk
Game: G-Sensor game, Classic game, Touch game
Automatic screen rotation: Four-Direction rotate screen
Note Paper: desktop tools, support 1 x 1 ~ 4 x 4 custom size
Weather: Desktop tools, support custom size, support change skin
Resco explorer: Android task killer, Andexplorer
Laptop Slot list:
- SD (support up to 32G HCSD) x 1
- Stereo Audio out x 1
- 30 pin interface x 1
- Microphone in x 1
- Reset x 1
Indicator light (left to right):
- Wi-Fi connection status
- The status of battery power
- The status of power on / off
Input power: 9V
Built-in battery standard capacity: 860mAh
Battery Life:
- Service time: 2 hours
- Standby time: 6 hours
Color: White
Dimension (L x W x D): 207 x 119 x 13 mm
Approved: CE / FCC
After Sales Service: 1 Year Warranty

Accessories:

1 x USB Cable
1 x User Manual
1 x Laptop AC/DC Adapter
Just contact us today, get a best gift for your loved one.