Slotted angle steel racks, Light duty shelves, slotted angle rack, Angle steel rack, Rivet shelves Racks (rivet shelf & boltless shelves)
1.Material: high quality steel
2.Racking size: 1200*400/500/600*2000mm or as require
3.Surface treatment: power coating
4.Feature: corrosion protection
5.Load capability: 50-200kg/layer
6.Packing: export carton or as require
7.Use: warehouse/supermarket
8.Certification: RoHS/CE/ISO9001:2000
9. Color: blue and red or as require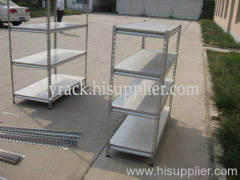 Advantages:
1.Structure scientific
2.Assembly consists of simply slotting the beams and cross beams into place along the uprights
3.Suitable for manual picking
4.Can be adjusted freely
5.The angle can be used with chipboard or plywood panels
6.Prompt delivery and shipment
7.Access to stored items from all side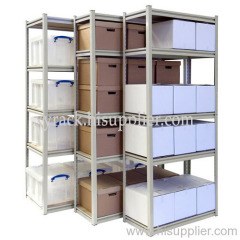 Modular Design for Many Application.

Rivet shelves Storage Rack system (BRS) is designed for use in the home, the office, and the industrial workplace. BRS shelves systems provide sturdy shelves which may be used as either a single upright unit or split in half to provide shelves with a handy work surface.
Rivet shelf &Rivet racking& Boltless Rivet Rack is designed to provide an economical solution for manual loading. The system is completely boltless and can be quickly constructed without special tools in minutes.

Rivet shelves angle post has a standard specification and we can manufacture as customers request height. Standard angle post and heavy-duty angle post are available.