Specifications
1)Supermarket rack
2)Ordinary size(LxWxH):
Model

Size (mm)

Upright(mm)

Load Capacity(kg)

Single-side

900*450*2000

30*60*1.5

60kg

1200*450*2000

30*60*1.5

1200*540*2200

40*80*1.8/2.0

80kg

1200*640*2000

40*80*1.8/2.0

Double-side

900*900*1800

30×60*1.5

60

1200*900*1800

1200*1000*2000

40*80*1.8/2.0

80-120

1200*1200*1800

End shelf

960×450/540×1800

40×80 30×60 30×70
3) Load capacity: 100-150kg/layer
4) Thickness of shelf: 0.5-1.0mm
5) Thickness of back board: 0.4mm
6) Thickness of bracket: 1.5-2.5mm
7) Surface treatment: powder coating spray
8) Different sizes are available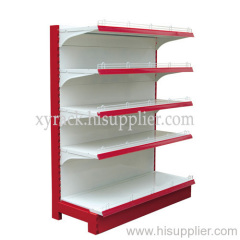 Advantages:
1.Excellent in quality and beautiful in appearance
2.Suitable for large market
3.Easy to dismantle and assemble
4.Layer board can be adjusted freely
5.Prompt delivery and shipment
6.Excellent security
3.Introduction:
Supermarket shelf, also named supermarket rack, can be divided into two types. One is back net supermarket shelf, available in single and double sides, the other is luxury backboard supermarket shelf, available in single and double side. Back net type supermarket rack would be more fixing in construction, more convenient in moving, luxury and beauty in appearance with installed partition net layer frames, connected with pothook and inserted press configuration with screw. Those racks are suitable for shops, big or middle-size supermarkets. Supermarket shelves take up small space, layers can be adjusted randomly, also with advantages of quick disassembly or assembly, firm durable. These shelves are mostly used in supermarkets. The arrangement of high-low position of each layer can be adjusted according to the dimension of different commodity, our racks help seller to achieve perfect commodity display effect and reach a good sale.

This style of supermarket display rack is the most popular shelves among customers, it is very elegant and decent, with the best quality and competitive price.