metal wire mesh discs
Material of discs: Stainless Steel wire Mesh, Brass Wire Mesh, Plain Steel wire Mesh, Galvanized Wire Mesh etc.
Diameter of metal wire mesh discs: from 1" to 30",usual diamter 222mm,228mm,230mm,300mm,303.5mm,305mm,355mm;
Can be supplied single layer metal wire mesh discs and multi layer metal wire mesh discsas per customer's requirement.
Can be produced multi layer mesh discs with welds points.
Application: metal wire mesh discs use for the filteration of air, the medium cleaning and flow control of lubrication oil, fuel oil, hydraulic pressure and air pressure system.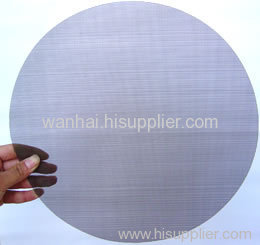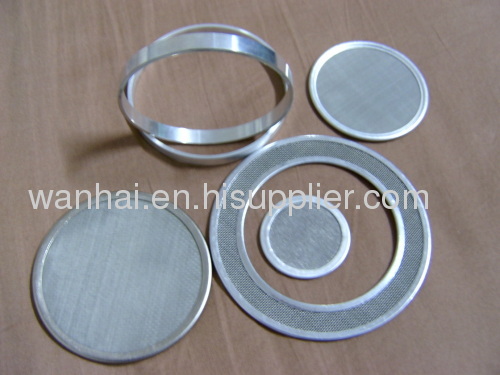 plain weave wire cloth specification

standard filter wire mesh specification

MESH

WIRE DIA .MM

APERTURE SIZE MM

OPEN AREA %

4 X 4

1.219

5.131 MM

65.3

5 X 5

0.914

4.166 MM

67.2

6 X 6

0.914

3.319 MM

61.5

8 X 8

0.711

2.464 MM

60.2

10 X 10

0.711

1.829 MM

51.8

12 X 12

0.559

1.558 MM

54.1

14 X 14

0.457

1.357 MM

55.9

16 X 16

0.457

1.131 MM

50.7

20 X 20

0.559

0.711 MM

31.4

20 X 20

0.457

0.813 MM

41.0

24 X 24

0.376

0.682 MM

41.4

30 X 30

0.376

0.531 MM

34.2

30 X 30

0.310

0.536 MM

40.0

40 X 40

0.274

0.361 MM

32.3

40 X 40

0.234

0.401 MM

39.9

50 X 50

0.193

0.335 MM

43.6

60 X 60

0.193

0.230 MM

29.8

60 X 60

0.152

0.271 MM

41.2

80 X 80

0.122

0.196 MM

37.9

100 X 100

0.102

0.152 MM

36.0

120 X 120

0.091

0.120 MM

31.8

150 X 150

0.071

0.088 MM

29.6

200 X 200

0.051

0.076 MM

36.0

250 X 250

0.041

0.061 MM

36.0

300 X 300

0.041

0.043 MM

26.5

325 X 325

0.035

0.043 MM

30.0

400 X 400

0.030

0.033 MM

27.0

500 X 500

0.025

0.026 MM

26.0