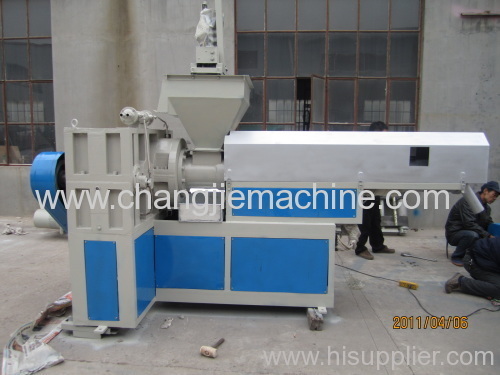 the new model PE/PP double rank pelleting line consists of belt conveyor, cutting compactor(optional), two single-screw extruders, hydraulic screen changer, pelletizer, water cooling tank, pelleting cutter, blowing system and storage silo. But the final proposal must be offered according to the user's real requirements.
1, Belt conveyor: feed the clean films or bags into the cutting compactor;
2, Metal detector: check whether there is metal in the films or bags, protect the blades of cutting compact and screws.

3, Cutting compactor(for your choice): cut the materials again and make materials shrink, then force feed the shrunk material into the extruder. for the same capacity, the power consumption is only 50% of the agglomerator.
4, Single screw extruder: for plasticizing the materials and exhausting the gas, it is made of 38CrMoAlA generally.
5, hydraulic screen changer: filter the impurities, improve the granules quality.
6, Pelletizer: adopt the strand pelleting cutter
7, Water cooling tank: use circular water for cooling the granules immediately after pelleting cut.
8, Blower system: use the blower to blow the granules to the storage silo through the SS304 pipes,
9,Storage silo: for storing the final films
10, Control system: use SUZHOU SIEMENS and China famous electrical parts.
Welcome your inquiry for further cooperation.