Order code: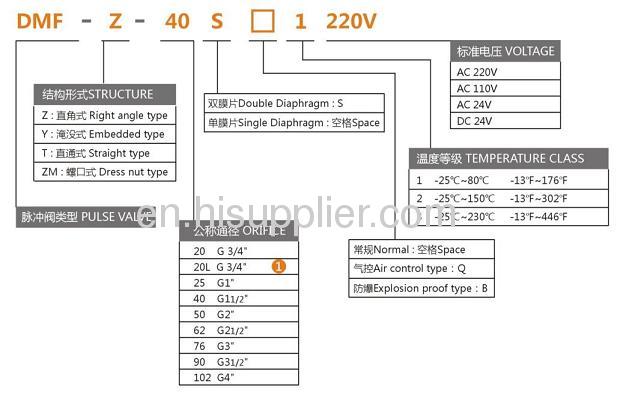 2/2 pulse valve
including
right angle style, embedded type, straight type and dress nut pulse valve
, including single diaphragm and double diaphragm, it's accordding the size of the
pulse
di
aphragm valve
.
Ordering Code:
DMF
pulse valve
Pulse frequency can be changed as you want. Valve operate control by the diaphragm valve controller.
1) Media: clean air
2) Pulse valve normal close
4) Pulse valve port: 3/4", 1", 1-1/2", 2", 2-1/2" 3"
5) Working pressure: 3 - 8 bar
6) Media temp.: -30°c-55°c
7) Pulse valve voltage: 12V, 24V ,36V,48V,110V, 220V ,380V and AC12V, 24V ,36V,48V,110V, 220V ,380V
8) Pulse valve body material: Aluminum
9) Diaphragm life: 1 Million cycles or 3 years. All the
pulse valve
produced by JKD use the imported diaphragm.
PULSE VALVE FILTER AREA:



PULSE VALVE INDEX:


JKD, GOY, ASCO, 3 series diaphragm pulse valves for you to make a choice.

Any further information about the pulse valve made by
JKD Pneumatic Engineering Co; Ltd
. Please contact with us. Thanks!