Product name:
19'standard PDU socket

Origin :zhejiang
1.Double-break Switch
2.Overload Protector
3.SPD Surge excluder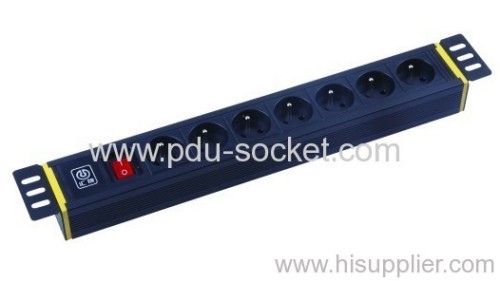 -----------
19'standard PDU socket
A power distribution unit (commonly abbreviated to PDU) is a device that distributes electric power.
There tends to be two major types: Heavy Floor Mounted PDU devices which take main feeds and distribute into a handful of smaller feeds. Facilities professionals will refer to these as PDUs as well, but these are only floor mounted. The second type of PDU is the rack-based PDU. Sometime called Smart-PDU, PDU, or Power Strip by IT professionals.
Rack-Based PDU units are used for taking high voltage and current and reducing it to more common and useful levels, for example from 240V 30A single phase to multiple 120V 15A or 120V 20A plugs. They are used in computer data centers, stage shows, by DJs, and in other electrically intensive applications. Some premium units have features like remote power monitoring and power state control down to the unit or individual plug level. Certain manufactures also include environmental monitoring via RS485, USB, Dallas 1-Wire or Serial ports. The power outlets themselves are typically IEC-C19, IEC-C13 or NEMA 5-20 style outlets.
Rack-based PDU refers to what amounts to a well-constructed power strip suitable for data center use. Two basic varieties distinguished by the type of input power are common: single-phase and three-phase. The output power (i.e. the power to the load device) is almost always single-phase, however. In the case of a three-phase PDU, each of the three phases appears individually on one-third of the included receptacles. Rack-PDUs can be dumb—meaning that they have no instrumentation and are not manageable, or they can be metered—meaning that they are equipped with a display that shows current load on each phase, or they can be switched and metered meaning that some or all of their receptacles can be individually switched on or off remotely and the meter usage as well.