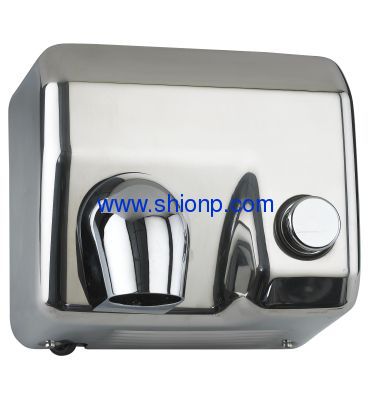 Specifications
Hand dryer
1. Durable copper motor
2. Doubble overheat protection
3.304ss outer case in fine polish

Description of Automatic hand dryer for hotel :
Voltage: 220V/50Hz, 10A, 2300W
Air Temperature: 50℃
Air Velocity: 26M/S
Drying Time: 15 to 20 Seconds
SafetyTimer: 60S auto shut off
Protection Level: IP23
Electrical Isolation: CLASS 1
Finish: Bright or Satin
Nozzle: 360°revolving
Dimension: W275×D200×H230MM
Material: Stainless Steel 304
Motor: Brush Motor, 6500RPM
Approval: CE
Restroom hand dryers offer many solutions to the problems and hassles that come along with using paper towels. This makes them a winning choice for any business or institutional restroom. Here's why:
Paper towels require large numbers of trees and vast amounts of water to make. To manufacture a single ton takes as many as 17 trees and as much as 20,000 gallons of water.

It's estimated that 40% of the waste generated by the typical office building comes from paper towel use.

Paper towels, being non-recyclable, cost a staggering amount of money over time. This may not be readily apparent, as the per-roll price may seem quite low. When multiplied by the vast number of towels used on a monthly or annual basis, however, the true expense quickly becomes clear.

The sticker cost for paper towels does not include the expenses of shipping, storing, stocking, and disposing of them. These are all resources that could be put to better use, like cutting your operations costs or enhancing your bottom line.