Feature& function
Single wall corrugated pipe production line
consist of extruder, die, moulding machine and winder orstacker.
Pvc single wall corrugated pipe production line
is used to process single wall corrugated pipeswith diameter from 4.5mm to 50mm, which are used for wire and cable, and used are drainage pipes ofwashing machine, vent pipes, etc.
PVC single wall corrugated pipe extrusion line
1)pvc production line can be used to produce single-wall corrugated pipe. 2) Characteristic :Plastic single-wall corrugated pipes have features of high temperature resistance, resistant to corrosion andabrasion,high intensity, good flexibility, etc. Plastic single-wall corrugated pipeproduction line developed byour company adopts gears to run moulds andtemplates so as to realize water circulating cooling and aircooling of theproducts, which ensures high-speed molding, even corrugation, smooth inner andouter pipewall. These corrugated pipes are especially used as wires of the up-market cars.
3) APPLICATION:They are widely used in fields of auto wire,electric thread-passing pipes, circuit of machinetool, protective pipes oflamps and lanterns wire, tubes of air conditioner and washing machine, etc.
Pipe diameter range(mm)

4.5-9

9-32

16-50

Main machine model

SJ-30

SJ-45

SJ-65

Main machine l/d

30:1

28:1

30:1

Production capacity kg/h

10

40

80

Main motor capacity kw

4

11

18.5

Moiding machine capacity kw

1.1

1.5

1.5

Pair of modules

42

38

38

Cooling mode

Water cooling and fan cooling

Production (m/min)

6-10

8-12

8-15

Metering mode

inductiing mode

Coiling machine mode

Motor-drivenManually-operated
Single wall corrugated pipe production line extruder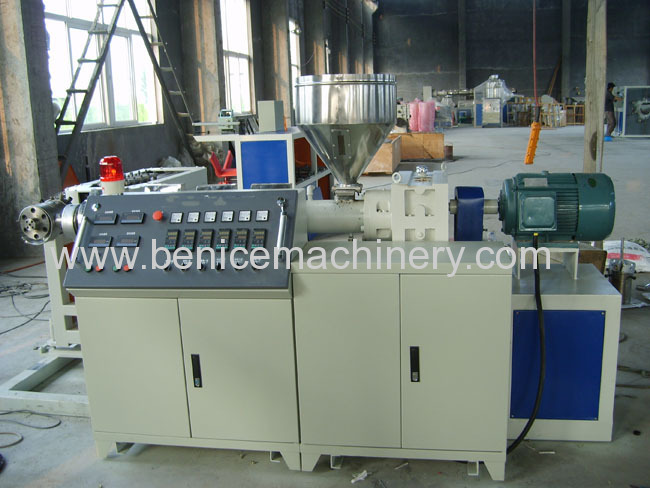 Corrugate pipe moulds

Corrugate pipe forming machine: