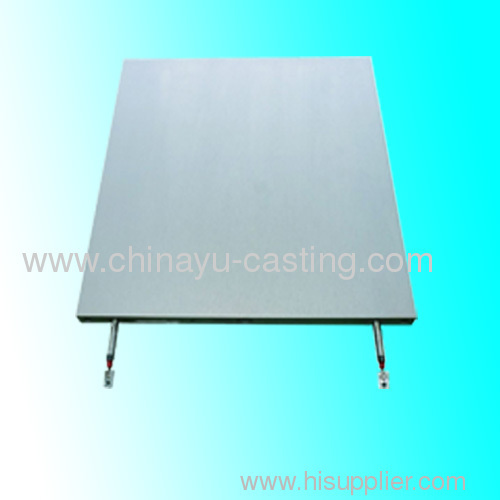 Aluminum cast heat platen
1.certificate:UL CCC RoHs
2.material:aluminum A356
3.size:510x410x20mm,11KG
4.wattage:2300w,do as require
5.casting method:low pressure die casting
More details:
1. With high-temperature low pressure casting, heating pipes and aluminum alloy closely, without aperture, quick heating, use 24 hours, life can reach 20 years

2. All product has many dimensions, largest do 1.2 m x 1.2 m, above product size for 510x410x20mm,heavy 11 KG

3.Product surface can be made according to the customer request, such as smooth groove, heating pipes and aluminum closely, heating even.

4.Food grade requirements, strictly control the quality of products,we strictly according to ISO9001 quality system process control, incoming inspection, process inspection, and 100% of finished goods inspection, especially electrical insulation, compression, resistance, power of the test. But after all kinds of test.