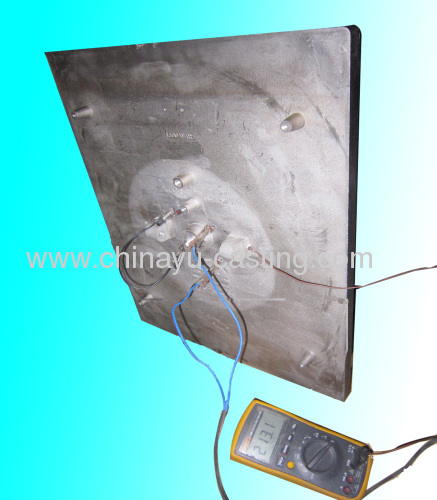 Above is temperature measurement figure

Thermal transfer press heater
details:
1,Casting:LPcastings
2.Wattage:1800W,or as required
3.Size:410x410x20mm, Weight:9KG,
4,Processing: PPAP&100% inspection
5.Voltage:220-24VAC
6.Machining:CNC machining
More Details:
1. The heating plate for thermal transfer machine has two kinds of
size
: 510x410 x20mm ; 410x410x20mm, also can do more size.

2. Heating plate composition: aluminum alloy , heat element closely casting in aluminum ensure the plate heating evenly.no deformation,the highest temperature of 280 degrees. Quality absolute safety, reliability and durability, the commercial life of 20 years.

3. Our company's thermal transfer aluminum casting heating plate widely used in textile cloth products of the thermal transfer, heat to sublimate printing plate backing and heat treatment.

4.We have the high quality technical power and have working experience talents, has consistently adhered to the "fine optimal win, win reputation", good faith for the purpose, catch a management for efficiency, catch the quality of development, grasp services for the letter, for the development of the enterprise beneficial strategy, enthusiasm for the thermal transfer related industries to provide high quality service.

5. Our company has very professional technology personnel to ensure production quality safe, reliable, and including incoming material inspection, process inspection and 100% of finished goods inspection, especially electrical insulation, compression, resistance, power of the test.