Swing Heat Press Machine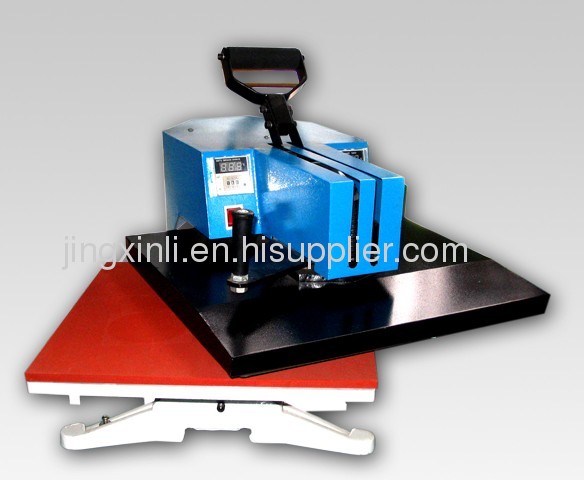 1.Model No.: jxl181221
2.black and orange steel framework
3.Digital time and temperature controls (Only Celsius thermometer Warranty)
4.Time: 0-999 second
5.Temperature: 0-399 celsiue
6.Platinum RTD heat probe reads platen temperature within 2 degrees
7.Cast in 8 lines tubular heating element every 2 cm to ensure heat equably and no cold spots.
8.Teflon coated upper heat platen.
9.Silicone rubber bottom pad
10.1750 Watts -220V (available in110V as well)
11.76cmx49cmx40cm
12.Shipping Approximately weight 35kg.
13. Space saving clam shell design
14.Wide opening for easy layout and Lifetime warranty on heating element The 38cmx38cm swing heat press is exceptional in that the pressure is centered in the middle of the plate that allows for even pressure in all areas. The press is adjustable for objects up to one inch in thickness. It has a digital timer that automatically resets each time you close the heat press to begin a new job. Ideal for applying Prints ALL types of heat transfers materials, Such as T-shirts, Ceramic Plates, Ceramic Tiles, Mouse Pads, Jigsaw Puzzles, Fabrics Materials, etc..And more important, it will protect your hands avoid hurt when working.