Black annealed wire

Black annealed wire made of low carbon steel wire, also known as oxygen-free annealed wire.
mainly used in construction as binding wire or wire ties.

Wire diameter vcan be from 0.2 to 4.2mm, Sizes of annealed wire can also be customized.

Packing:Generally inner plastic and outer hessian cloth.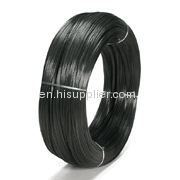 We can make the annealed wire into U type wire and straight cut wire.

Feature and applications:
Softness and pliablity,strong breaking strength, coated with anticorrosive oil, hard to rust.

Processing and character:
It is oxgen free annealed process and offer excellent flexbility and softness.