Sintered Neodymium-Iron-Boron cylinder magnet
Magnetic Feature:
1) Material: Sintered or Bonded Neodymium-Iron-Boron;
2) Temperature: the max operation temp is up to 200 degree centigrade or 380 curie temperature;
3) Grade:N33,N35,N38,N40,N42,N45,N48,N50 and so on.
4) Shape: ring,block,disc,bar and so on;
5) Size: according to customers' request;
6) Coating: Ni, Zn, gold,copper, epoxy and so on
7) According to customer's request .We can supply different size magnetic hook.
8) Good quality with competitive price and best delivery date.
9) Application: sensors,motors, rotors, wind turbines,wind generators, loudspeakers,magnetic holder, filters automobiles and so on.
10) Certificate: ISO9001:2000, SGS test report
We are specialized in producing NdFeB Magnet over many years,We guarantee the best price based on the same quality and service. Our finance conditiearon and industrial reputation are excellent.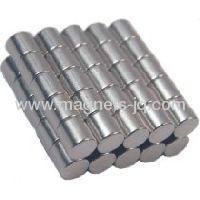 Magnetic properties of Neodymiummagnets
Grade
Br
Hcb
Hcj
(BH)max
Density
Curie Temp
Working Temp
mT
kGs
kA/m
kOe
kA/m
kOe
kJ/m3
MGOe
g/cm3
℃
℃
N35
1180-1230
11800-12300

≥868

≥10900
≥955
≥12000
263-287
33-36
7.45
310
≤80
N38
1220-1280
12200-12800
≥899
≥11300
≥955
≥12000
287-310
36-39
N40
1250-1310
12600-13100
≥923
≥11600
≥955
≥12000
302-326
38-41
N42
1280-1340
12800-13400
≥923
≥11600
≥955
≥12000
318-342
40-43
N45
1320-1370
13200-13700
≥876
≥11000
≥955
≥12000
342-366
43-46
N48
1380-1420
13600-14200
≥836
≥10500
≥876
≥11000
358-390
45-48
N50
1400-1450
13900-14500
≥836
≥10500
≥876
≥11000
374-406
47-51
N52
1430-1480
14200-14800
≥796
≥10000
≥876
≥11000
390-422
49-53
N35M
1180-1230
11800-12300
≥868
≥10900
≥1114
≥14000
263-287
33-36
≤100
N38M
1220-1280
12200-12800
≥899
≥11300
≥1114
≥14000
287-310
36-39
N40M
1260-1310
12600-13100
≥923
≥11600
≥1114
≥14000
302-326
38-41
N42M
1280-1340
12800-13400
≥923
≥11600
≥1114
≥14000
318-342
40-43
N45M
1340-1390
13400-13900
≥876
≥11000
≥1114
≥14000
342-366
43-46
N48M
1360-1420
13600-14200
≥876
≥11000
≥1114
≥14000
366-390
46-49
N35H
1180-1230
11800-12300
≥868
≥10900
≥1353
≥17000
263-287
33-36
≤120
N38H
1220-1280
12200-12800
≥899
≥11300
≥1353
≥17000
287-310
36-39
N40H
1260-1310
12600-13100
≥923
≥11600
≥1353
≥17000
302-326
38-41
N42H
1280-1340
12800-13400
≥923
≥11600
≥1353
≥17000
318-342
40-43
N45H
1330-1390
13300-13900
≥923
≥11600
≥1353
≥17000
342-366
43-46
N48H
1360-1420
13600-14200
≥923
≥11600
≥1274
≥16000
366-390
46-49
N33SH
1140-1190
11400-11900
≥836
≥10500
≥1592
≥20000
247-270
31-34
≤150
N35SH
1180-1230
11800-12300
≥868
≥10900
≥1592
≥20000
263-287
33-36
N38SH
1220-1280
12200-12800
≥899
≥11300
≥1592
≥20000
287-310
36-39
N40SH
1260-1310
12600-13100
≥923
≥11600
≥1592
≥20000
302-326
38-41
N42SH
1280-1340
12800-13400
≥923
≥11600
≥1592
≥20000
318-342
40-43
N45SH
1330-1390
13300-13900
≥923
≥11600
≥1592
≥20000
342-366
43-46
N28UH
1030-1090
10300-10900
≥780
≥9800
≥1990
≥25000
207-231
26-29
≤180
N30UH
1090-1140
10900-11400
≥812
≥10200
≥1990
≥25000
223-247
28-31
N33UH
1130-1170
11300-11700
≥852
≥10700
≥1990
≥25000
247-263
31-33
N35UH
1180-1220
11800-12200
≥868
≥10900
≥1990
≥25000
263-287
33-36
N38UH
1220-1270
12200-12700
≥899
≥11300
≥1990
≥25000
287-310
36-39
N28EH
1030-1090
10300-10900
≥780
≥9800
≥2388
≥30000
207-231
26-29
≤200
N30EH
1080-1130
10800-11300
≥812
≥10200
≥2388
≥30000
223-247
28-31
N33EH
1130-1170
11300-11700
≥852
≥10700
≥2388
≥30000
247-263
31-33
N35EH
1180-1220
11800-12200
≥868
≥10900
≥2388
≥30000
263-287
33-36