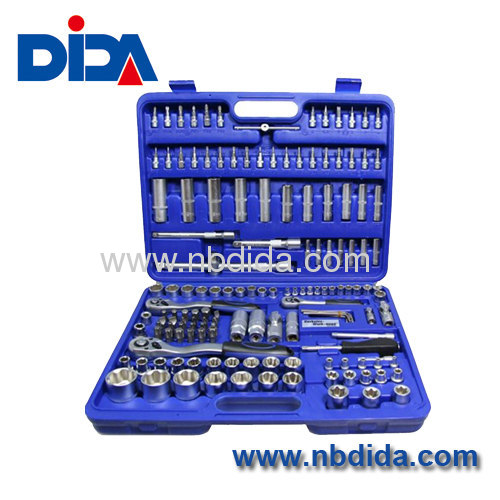 150 PC Super Lock Socket Set Hand Tool
Detail specification:
1/2" Drive
(17) 6-Point Standard Sockets: 10, 11, 12, 13, 14, 15, 16, 17, 18, 19, 20, 21, 22, 24, 27, 30, 32mm
(2) E-Type Sockets: E20, E24
(5) 6-Point Deep Sockets: 16, 17, 18, 19, 22mm
(1) Quick-Release, 72-Tooth Ratchet
(2) Extensions - 125mm, 250mm
(1) Universal Joint
(1) 3 Way Adapter
(2) Star Plug Socket: 16mm, 21mm
(2) 3/8" & 5/16" Bit Adapter
(24) 8MM BITS 30L
- Square: 7, 8, 10, 12, 14mm
- Slotted: 8, 10, 12mm
- Phillips: 3, 4mm
- Pozi: 3, 4mm
- Torque: T40, T45, T50, T55, T60, T70
- Torx Tamper Proof: T40, T45, T50, T55, T60, T70
(7) Hex Key Wrench: 1, 1.5, 2, 2.5, 3, 4, 5mm
(1) Blow Moulded Case
1/4" Drive
(13) 6-Point Standard Sockets: 4, 4.5, 5, 5.5, 6, 7, 8, 9, 10, 11, 12, 13, 14mm
(5) E-Type Sockets: -E4, 5, 6, 7, 8
(7) 6-Point Deep Sockets: -4, 5, 6, 7, 8, 9, 10mm
(1) Quick-Release, 72-Tooth Ratchet
(2) Extensions - 50mm, 100mm
(1) Spinner Handle - 150mm
(1) Sliding Bar - 100mm
(1) Universal Joint
(30) H2, 3, 4, 5, 6, FD4, 5.5, 7, pH1, 2, 3, PZ1, 2, 3, T8, 9, 10, 15, 20, 25, 27, 30
TT8, 9, 10, 15, 20, 25, 27, 30
3/8" Drive
(10) 6-Point Standard Sockets: 10, 11, 12, 13, 14, 15, 16, 17, 18, 19mm
(6) E-Type Sockets: E10, E11, E12, E14, E16, E18
(7) 6-Point Deep Sockets: 10, 11, 12, 13, 14, 15mm
(1) Plug Socket: 21mm
(1) Extensions -150mm
(1) Universal Joint
(1) Quick-Release, 72-Tooth Ratchet.
Company Profile:
Ningbo Jiangdong Dida Import and Export Co., Ltd. was created in 2008. We have many years of experience in manufacturing hardware tools and plastic products, such as screw driver, combination tool, wrench, pliers etc. Focusing on top quality, superior innovation, reasonable prices and strong competitiveness, our products have been appreciated and recognized by majority of customers. So far we have built long-term cooperation with with more than 50 well-known enterprises from domestic and oversea market.