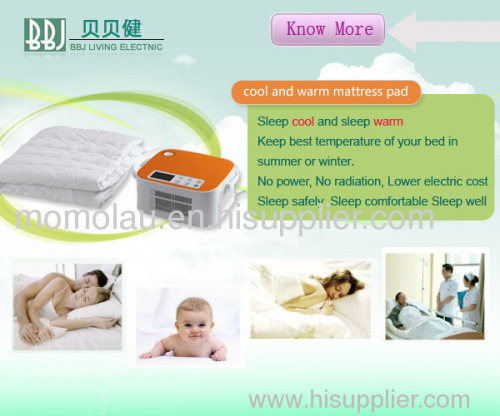 I GENERAL DESCRIPTIONS
·Cool and warm mattress is a new mattress home thermostat, It enhancing people's living quality to a high level.
·This product uses advanced semiconductor cooling and heating technology, using the international standard safety voltage DC12V, through the semiconductor heating or cooling circulating water to achieve the dual effect of cold and warm.
·This product uses micro-computer temperature control system, temperature from 18 °C -48 °C using a wireless remote control switch precisely to get heating and cooling.
·Without power, no radiation, and defend the human body .
II FOUR FEATURES
1,sleep cool and sleep warm
This product, to use advanced semiconductor technology, temperature from 18 °C - 48 °C, free adjustment, and achieve the effect of cooling and warming for sleeper.
Small heating and cooling area and quickly to get heating or cooling, what's more can keep a constant temperature, make human body have more healthy sleep.
2, Water temperature control, Environmental-friendly
Cool and Warm mattress just need to re-fill water in certain period, it do not produce freon and have no Air conditioning compressor, more environmental-friendly comparing to regular air conditioner.
3,Water temperature control, safe and low electric cost
Just some water is circulating inside of mattress, through the semiconductor to reach heating or cooling, so have No power No radiation, can open the window and sleep under natural ventilation environment. Low electric cost, just need 10 hours/1kwh.
4,Healthcare
Principle of healthcare:
The magnetizing system of the machine can magnetize cyclic liquid that inside of the mattress constantly, for that, can produce magnetic field effect. The effect promote human blood circulation, eliminate fatigue, still can solve the papula and eczema on the back of people who lie a long time on beds or who can not self-care patients, and other discomfort troubling.
III PK with other products
1,Electric blanket
Weak point: no safe, have radiation, will suffer eczema and skin itch ,chest distress swirl…
Numerous studies point out the possible health hazards for low-frequency electromagnetic fields which electrical blanket produce, and electrical blanket is a risk to leak electricity, besides the temperature is not easily to be controlled.
2,Air conditioner
Weak point: high power consumption, high electric cost, no environment-friendly no energy conservation. Air can not circulate, it is humid and easy to get the cold, also will suffer headaches, limb weakness, and muscles pain, etc
3,Fan
Weak point: having noise, cooling effect is not apparent, and only by one-way use, long time to use fan will cause headaches, limb fatigue etc.
IV Cool and warm mattress mission ----the real Sleep experts
In most case, people are hard to fall asleep when the bed is so cold or hot.
In hot weather, the costly Air conditioner can easy to cool down the room's temperature in short time, but it's difficult to cool down the bed's temperature, sleeper is hard to fall asleep because of heat flush, the most comfortable bed's temperature is around 25 degree.
In cold weather, the costly air conditioner can easy to warm up the room's temperature in short time, but sleeper would not feel comfortable if the room's air is un-flowing, besides the bed is still cold.
Can own a kind of device to adjust the mattress's temperature to the human's required temperature?
We fulfill our mission with cool and warm mattress which
A, can adjust temperature from 18°C-48°C
B, can give you're the best temperature which health for human's body
C, base on semiconductor water circulating system