1)Products:HSS Bimetal Hole Saws
Material: HSS Bi metal M3, M42
Teeth: 4/6 variable Sharp Teeth
Cutting depth: 38-47mm (1-1/2"--1-7/8")
Diameter: 14-210mm (9/16"--8-17/64")

2) HSS Bimetal Hole Saws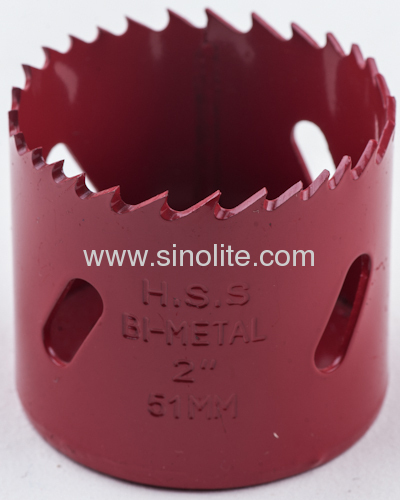 3)Specification Of HSS Bimetal Hole Saws
| | | | | | |
| --- | --- | --- | --- | --- | --- |
| mm | inch | Art No. | mm | inch | Art No. |
| 14 | 6/16" | 63000014 | 65 | 2-9/16" | 63000065 |
| 16 | 5/8" | 63000016 | 67 | 2-5/8" | 63000067 |
| 17 | 11/16" | 63000017 | 68 | 2-11/16" | 63000068 |
| 19 | 3/4" | 63000019 | 70 | 2-3/4" | 63000070 |
| 20 | 25/32" | 63000020 | 73 | 2-7/8" | 63000073 |
| 21 | 13/16" | 63000021 | 76 | 3" | 63000076 |
| 22 | 7/8" | 63000022 | 79 | 3-1/8" | 63000079 |
| 24 | 15/16" | 63000024 | 83 | 3-1/4" | 63000083 |
| 25 | 1" | 63000025 | 86 | 3-3/8" | 63000086 |
| 27 | 1-1/16" | 63000027 | 89 | 3-1/2" | 63000089 |
| 29 | 1-1/8" | 63000029 | 92 | 3-5/8" | 63000092 |
| 30 | 1-3/16" | 63000030 | 95 | 3-3/4" | 63000095 |
| 32 | 1-1/4" | 63000032 | 98 | 3-7/8" | 63000098 |
| 33 | 1-5/16" | 63000033 | 102 | 4" | 63000102 |
| 35 | 1-33/8" | 63000035 | 105 | 4-1/8" | 63000105 |
| 37 | 1-7/16" | 63000037 | 108 | 4-1/4" | 63000108 |
| 38 | 1-1/2" | 63000038 | 111 | 4-3/8" | 63000111 |
| 40 | 1-9/16" | 63000040 | 114 | 4-1/2" | 63000114 |
| 41 | 1-5/8" | 63000041 | 121 | 4-3/4" | 63000121 |
| 43 | 1-11/16" | 63000043 | 127 | 5" | 63000127 |
| 44 | 1-3/4" | 63000044 | 133 | 5-1/4" | 63000133 |
| 46 | 1-13/16" | 63000046 | 140 | 5-1/2" | 63000140 |
| 48 | 1-7/8" | 63000048 | 146 | 5-3/4" | 63000146 |
| 51 | 2" | 63000051 | 152 | 6" | 63000152 |
| 52 | 2-1/16" | 63000052 | 160 | 6-19/64" | 63000160 |
| 54 | 2-1/8" | 63000054 | 165 | 6-1/2" | 63000165 |
| 57 | 2-1/4" | 63000057 | 168 | 6-5/8" | 63000168 |
| 59 | 2-5/16" | 63000059 | 177 | 6-31/32" | 63000177 |
| 60 | 2-3/8" | 63000060 | 200 | 7-7/8" | 63000200 |
| 64 | 2-1/2" | 63000064 | 210 | 8-17/64" | 63000210 |
OEM order is welcome for HSS bimetal hole saws


4) Packages HSS Bimetal Hole Saws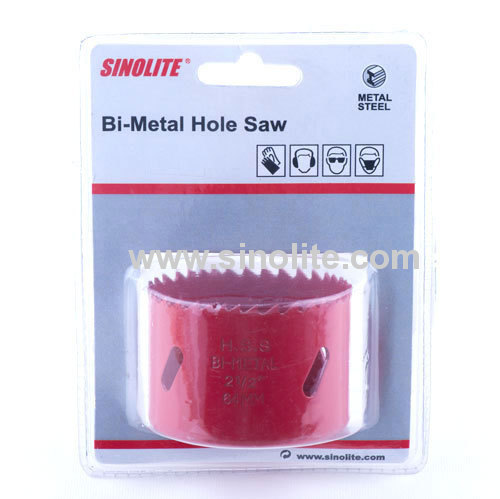 5)Milling Teeth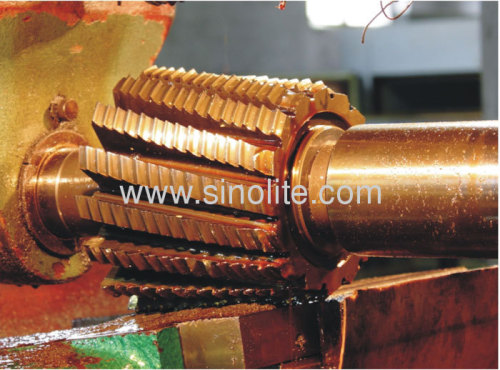 6) Testing


Cutting test on stainless steel sheet

7)Specification Of HSS Bimetal Hole Saws
| | | | | | | | | | | | | |
| --- | --- | --- | --- | --- | --- | --- | --- | --- | --- | --- | --- | --- |
| Diameter(mm) | Mild Steel | Stainless Steel | Cast Iron | Brass | Alumimum | Wood | Diameter(mm) | Mild Steel | Stainless Steel | Cast Iron | Brass | Alumimum |
| 14 | 580 | 300 | 400 | 790 | 900 | 3000 | 51 | 170 | 85 | 115 | 230 | 255 |
| 16 | 550 | 275 | 365 | 730 | 825 | 3000 | 52 | 165 | 80 | 110 | 220 | 245 |
| 17 | 500 | 250 | 330 | 665 | 750 | 3000 | 54 | 160 | 80 | 105 | 210 | 240 |
| 19 | 460 | 240 | 300 | 600 | 690 | 3000 | 57 | 150 | 75 | 100 | 200 | 225 |
| 20 | 435 | 230 | 290 | 580 | 660 | 3000 | 59 | 145 | 75 | 100 | 195 | 225 |
| 21 | 425 | 210 | 280 | 560 | 635 | 3000 | 60 | 140 | 70 | 95 | 190 | 220 |
| 22 | 390 | 195 | 260 | 520 | 585 | 3000 | 64 | 135 | 65 | 90 | 180 | 205 |
| 24 | 370 | 185 | 245 | 495 | 555 | 3000 | 65 | 130 | 65 | 85 | 175 | 200 |
| 25 | 350 | 175 | 235 | 470 | 525 | 2700 | 67 | 130 | 65 | 85 | 170 | 195 |
| 27 | 325 | 160 | 215 | 435 | 480 | 2700 | 68 | 130 | 65 | 85 | 170 | 195 |
| 29 | 300 | 150 | 200 | 400 | 450 | 2700 | 70 | 125 | 60 | 80 | 160 | 185 |
| 30 | 285 | 145 | 190 | 380 | 425 | 2400 | 73 | 120 | 60 | 80 | 160 | 180 |
| 32 | 275 | 140 | 180 | 360 | 410 | 2400 | 76 | 115 | 55 | 75 | 150 | 170 |
| 33 | 260 | 135 | 175 | 345 | 390 | 2400 | 79 | 110 | 55 | 70 | 140 | 165 |
| 35 | 250 | 125 | 165 | 330 | 375 | 2400 | 83 | 105 | 50 | 70 | 140 | 155 |
| 37 | 240 | 120 | 160 | 315 | 360 | 2400 | 86 | 100 | 50 | 65 | 130 | 150 |
| 38 | 230 | 115 | 150 | 300 | 345 | 2400 | 89 | 95 | 45 | 65 | 130 | 145 |
| 40 | 220 | 110 | 145 | 290 | 330 | 2100 | 92 | 95 | 45 | 60 | 120 | 140 |
| 41 | 210 | 105 | 140 | 280 | 315 | 2100 | 95 | 90 | 45 | 60 | 120 | 135 |
| 43 | 205 | 100 | 135 | 270 | 305 | 2100 | 98 | 90 | 45 | 60 | 120 | 135 |
| 44 | 195 | 95 | 130 | 260 | 295 | 2100 | 102 | 85 | 40 | 55 | 110 | 135 |
| 46 | 190 | 95 | 15 | 250 | 285 | 2100 | 105 | 80 | 40 | 55 | 110 | 120 |
| 48 | 180 | 90 | 120 | 240 | 270 | 2100 | | | | | | |
-----------Basic information for HSS bi-metal hole saw-----------------------
Materials of teeth: M42 (W2Mo9Cr4VCo8)
M3 (W6Mo5Cr4V3)
Material of body (except teeth): medium carbon alloy steel
HRC of teeth: 64-66
Teeth type: 4/6 variable teeth
Cutting depth: 38mm
Available to cut the following materials:
wood, plywood, plastics, cast iron, brass, aluminum, mild steel, stainless steel
Pls be advised Bi-metal hole saw by using material M42 is especially good at drilling on stainless steel (better than Bi-metal hole saw by using material M3)
---------------Manual------------------------
Use the correct rotation speed (RPM). The correct speed for each size is given in the table.
For longer saw life and lower operating costs, the following recommendation should be observed:
1. Pls always wear safety equipment when working with electric power tools
Eye protection and gloves must be used
2. Connection to hole saws
2.1) Use the correct arbor for the size saw to be used
there's different kinds of shanks of arbors
6.35 round shank
9.52mm hex shank
11.11mm hex shank
there's two types of thread to fit hole saw:
thread 1/2--20UNF to fit hole saws 14-30mm
thread 5/8-18UNF to fit hole saws 32-210mm
2.2) turning arbor into hole saw
Use pin-type arbors for hole saws larger than Dia.32mm. When mounting, Lift up the disc with the pins and then screw the arbor down into the hole saw as far as it will go. Fit the drive pins into the pin holes in the hole saw by turning the hole saw backwards. Push the pins in. Check that they are securely locked. Check regularly to make sure the drive pins are in the right position.
3.Check that the arbor shank is securely inserted in the chuck on the drive unit. Tighten with chuck key.
4. Cutting oil should be used when sawing steel. Do not use cutting oil when sawing cast iron. The cutting pressure should, however, be high so that each tooth cuts deep. Paraffin can be used when sawing aluminum.
5. Use the correct rotation speed! Too high or too low speed will decrease the life of the cutting edge.
6. Apply the hole saw perpendicular to the workpiece. If the hole saw vibrates during sawing, the teeth may became damaged and break. The result is often a rough, imperfect hole.
7. Clear away chips and slugs frequently in order to prevent overheating
-----------Manufacturing procedures------------------------
1. Preparing materials:
Plate, alloy steel strip, teeth strip
2. Stamping HSS BI-METAL (SIZE) on hole saws
3. Milling teeth
4. Rounding hole saw's body
5. Welding: Plate, Rounded Body, teeth strip
6. Heat treatment: vacuum furnace
7. Anti-rust treatment: phoshorization
8. Painting color and stamping yr logo
9. Packing