22W High Power LED downlight Diameter 9 inch IP44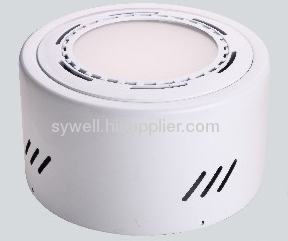 ---Model No.: SL-DL15-22W
---Lamp Size: Diameter 9 inch, Hole diameter: 230mm, Lamp Weight: 1.347Kg
Product Features:
1-: Led quantities: 18 pcs
2-: Led Brand: Epistar
3-: Luminous efficiency---up to 90Lm/W
4-: Good radiating
5-: Long life time: 50,000hrs
6-: Withstand high voltage up to 4500V
7-: Certifications: CE,ROHS

Light Technical Characteristics:
Luminous Efficiency: 80-90Lm/W(cool white), 70-80Lm/W(warm white)
Luminous Flux: Cool white(1760LM-1980LM), Warm white(1540LM-1760LM)
Color Temperature: 4500K-6500K(cool white),2700-3500K(warm white)
CRI(Color rendering Index: >70Ra
Power Factor: >0.85
LED Brand: EPISTAR

Electrical Characteristics:

Power: 22W
Working Voltage: AC 82V-265V
Frequency: 50~60Hz
Working Temperature: -30 ℃ to +50 ℃
Dimmable Version: Not available
General Characteristics:
Lamp Size: Diameter 9 inch
Hole diameter: 230mm
Lamp Weight: 1.347Kg
Material: PC+Die casting aluminum
Ring Colors: White, Silver, Golden
Average Lifetime: >50,000 hours
Warranty: 2 Years

Product Application:
LED downlights can be used in houses, offices, exhibition halls, restaurants, hotels, malls, warehouses, parking lots, shops, etc.

Our Promise:
To be our client or parterner, enjoy and gain more profit from the business. Contact us Now!!!