GJ-2005 Oxford material /Travel first aid kits
Recommended contents of a first aid kit include the following



| | | | |
| --- | --- | --- | --- |
| No | Contents Name | Unit | Quantity |
| 1 | PVC gloves | pair | 1 |
| 2 | Adhesive bandages 72 X19mm | pcs | 20 |
| 3 | Absorbent adhesive dressing 5cm×7.5cm | pcs | 2 |
| 4 | Non-wound dressing pad 7.5x7.5cm | pcs | 2 |
| 5 | Wound dressing pad 10cmx10cm | pcs | 2 |
| 6 | Tweezers | pcs | 1 |
| 7 | Adhesive tape 1.25cmx2.5m | pcs | 1 |
| 8 | Triangular bandage 90 X 90 X135 cm | pcs | 1 |
| 9 | Safety pins | pcs | 4 |
| 10 | PBT elastic bandage 8cm×4m | pcs | 1 |
| 11 | Mouth to mouth mask 20cm x 20cm | pcs | 1 |
| 12 | First aid list | pcs | 1 |
| 13 | Butterfly Closures | pcs | 4 |
| 14 | Scissors | pcs | 1 |
| 15 | First aid kit | pcs | 1 |
Attractive available colors: red, green, sky blue, yellow etc.
Other style of promotion first aid kits , more styles please visit our website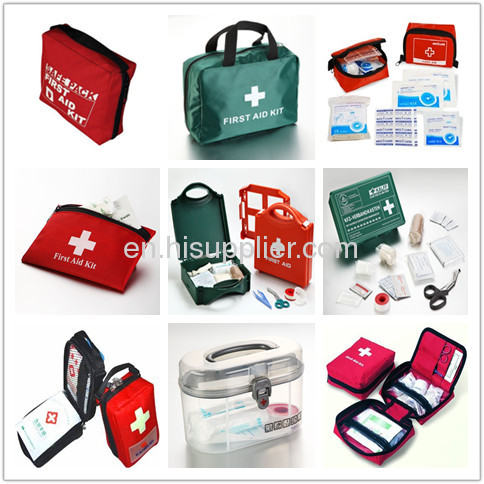 Everyone should have a well-stocked first aid kit at home, in the car, and in the work place.
The kit contains items that you need to have with you when an emergency occurs.