2 Way cast iron IP65 pilot opreatered water air oil solenoid valve
Air/Inert Gas, Water, Lt. Oil – 1 1/2″ – 8"
Solenoid pilot operated valves available in normally closed and normally open constructions. Available either AC or DC operated with cast iron body material and flange connection for a wide variety of applications. Diaphragm( NBR, EPDM and Viton) from 1 1/2 to max 8", Our most economical, high flow valve available.
[Technical Specifications ]
-- Media: Water, Air, Oil (below 20cst)
--Temperature: -5 ÷80℃
--Mode of action: Pilot operated
--Body material: Cast iron
-- Sealing material: NBR
--Protection class: IP65
--Function type: Normally Closed (N/C), Normally Open(N/O)
-- MAX. Pressure: Normally Closed 12bar; Normally Open 8bar
| | | | |
| --- | --- | --- | --- |
| Model | Flange D | Flange D1 | Flange D2 |
| DFD-40CF | 150 | 110 | 4-Φ18 |
| DFD-50CF | 165 | 125 | 4-Φ18 |
| DFD-65CF | 185 | 145 | 4-Φ18 |
| DFD-80CF | 200 | 160 | 8-Φ18 |
| DFD-100CF | 220 | 180 | 8-Φ18 |
| DFD-125CF | 250 | 210 | 8-Φ18 |
| DFD-150CF | 285 | 240 | 8-Φ22 |
| DFD-200CF | 340 | 295 | 12-Φ22 |
How to order
Valve type

Connection pipe size

Function type

Voltage




OPTIONS

EPDM (E): suitable to water, hot water, gas, Freon, the MAX. 110℃; In case you choose EPDM, please state "E" in your order.

Viton (V): suitable to hot water, acid, alkali, chemical salt, oil and hydrocarbon; the MAX.130℃. In case you choose Viton, please state "V" .

DFD-CF

---40




DC:24V

C: Cast

40 100

Blank: N/C

AC:220V

F: Flange

50 125

K: N/O

AC:110V




65 150




DC:24V




80 200




DC:12V
PARAMETERS(N/C)
Model

DFD-40CF

DFD-50CF

DFD-65CF

DFD-80CF

DFD-100CF

DFD-125CF

DFD-150CF

DFD-200CF

Flange connection

1½"

2"

2½"

3"

4"

5"

6"

8"

Orifice Size

mm

40

50

65

80

100

125

150

200

Motion Pattern

Pilot Operated

Cv Value

21

30

52.5

81.7

128.4

221.7

291.7

513.5

L

mm

182

215

256

277

350

425

450

560

H

mm

196

200

280

287

330

437

460

547

H1

mm

125

120

185

190

230

310

318

380

Medium temperature℃

-5 ~ 80℃

Pressure

bar

N/C:0.3÷12(0.3÷16) N/O: 0.3÷8

Power

AC:220V~AC:230V/50-60HZ 25VA; AC110 ~AC:120V/50-60HZ 26VA; DC24 12 W; DC12 14W ; Range:±10%,


-----DFD-80CF: 2 Way cast iron IP65 pilot opreatered water air oil solenoid valve

-----ZCLF-80F: 2 Way cast iron IP65 pilot opreatered hot water steam solenoid valve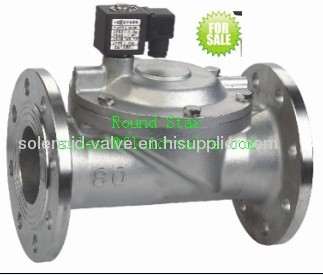 ----DFD-80JF: 2 Way SS304 IP65 pilot opreatered water air oil solenoid valve