Perforated Metal Mesh
Material : iron, stainless steel, , copper, aluminum, carbon steel ,galvanized steel, tinplate, inconel , titanium, zinc and other metal
Perforated metal mesh Thickness or Gauge: 0.1 to 12mm (general standards)
Perforated metal meshWidth and Length: (general standards)
1000MM X 2000MM 1220MM X 2440MM 1250MM X 2500MM
1250MM X 6000MM 1500MM X 3000MM 1500MM X 6000MM
We can shear to size according to your requirements.
Shape:long square hole, square hole, round hole,triangle hole, hexagonal hole, the plum blossom hole, ichthyosisthe hole,scale hole and other different kinds of hole,The company can process the different kinds of type accroding the customer order.
Perforated mesh Margins:
Margins are the blank (un-perforated) area along the edges of the sheet.
Finish Type: Unfinished Finished Random Finished Square
Perforated metal mesh Features: flat surface, smooth, beautiful, durable, has a wide range of uses.
Applications: Agricultural equipment.Appliances. Architecture. Audio. Automotive. Perforated baking trays. Decorative patterns. Electronic Enclosures. Filtration. HVAC. Medical. Noise control. Store fixtures & displays. Security ceilingsand so on.
Value Added Services:
1. Toll Processing (Labor Only)
In most cases we can obtain the necessary raw materials to produce your order at a lower price than most customers . In other cases it makes more sense for the customer to supply their own raw material.
2.Degreasing(free of oil)
3.PVC Coating(free of scratches)
4. Shear to Size
5. Notching
6.bolt holes
7. forming
8. welding
Perforated metal mesh Packing details:
Wooden Pallets. Less than 1 ton(about 100 sheets)Per pallet.
Seller will pack all shipments in accordance with normal industry standards. Upon request, Seller will provide special packaging, but reserves the right to change its price and delivery schedules if such packaging requires additional risk, expense or time.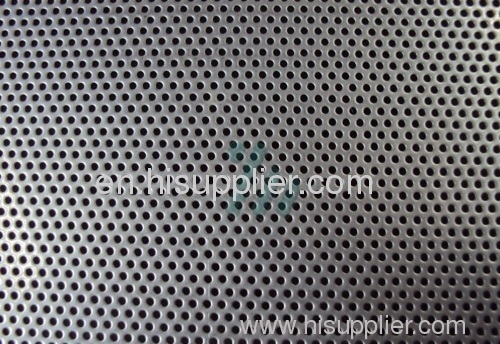 Round Hole Perforated Metal Mesh