Specification details of Printed Shopping Paper Bags :
1. standard size: (length x width x height mm)
200 x 120 x 265mm
400 x 150 x 305mm
400 x 150 x 480mm
2. regular material and board grade:
kraft paper: 60gsm, 90gsm, 150gsm, 170gsm, 190gsm, 210gsm, 230gsm, 250gsm
cardboard paper: 150gsm, 170gsm, 190gsm, 240gsm, 350gsm
Coated paper: 150gsm, 170gsm, 190gsm, 240gsm, 350gsm
3. Handles:
reinforced twisted paper
satin ribbon
cotton cord
nylon rope
4. Printing color: C M Y K , Pantone colors
5. Surface finishing: glossy or matt lamination, Varnishing, UV varnishing, Spot UV, gold or
silver stamping, embrossing, pearlized shining , hologram printing etc.
6. Acceptable design file: by PDF, ai, coreldraw, freehand, indesign
7. Design support is available
8. OEM service
Order information of
Printed Shopping Paper Bags
:
* Minimum quantity: 5000pcs, but it is subject to real request
* Packaging: standard export carton
* Delivery: 15days after sample's approval
* Trade term: FOB NINGBO, C&F or CIF
* Payment term: by T/T or L/C
* Transportation: by sea from NINGBO port or Shanghai
Statement
The attached photos are only shown as an example of our production capacibility, its
intellectual property is still protected by laws, no other third party has the right to produce it.
Basis of
Printed Shopping Paper Bags
: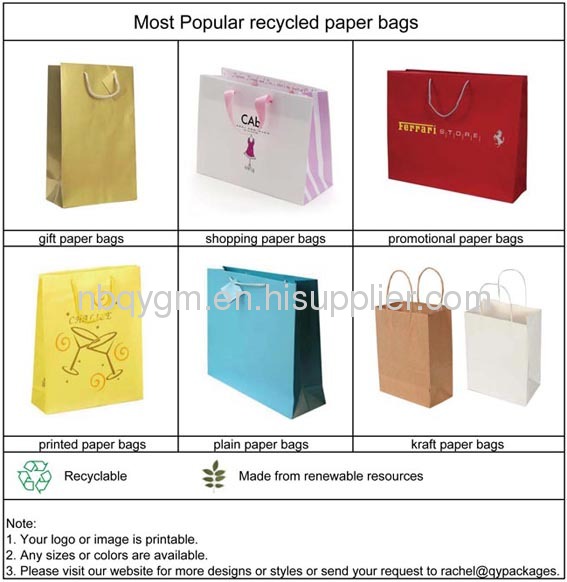 About our company- Ningbo Qingying (qy packages):
Business procedure:
Regular product range: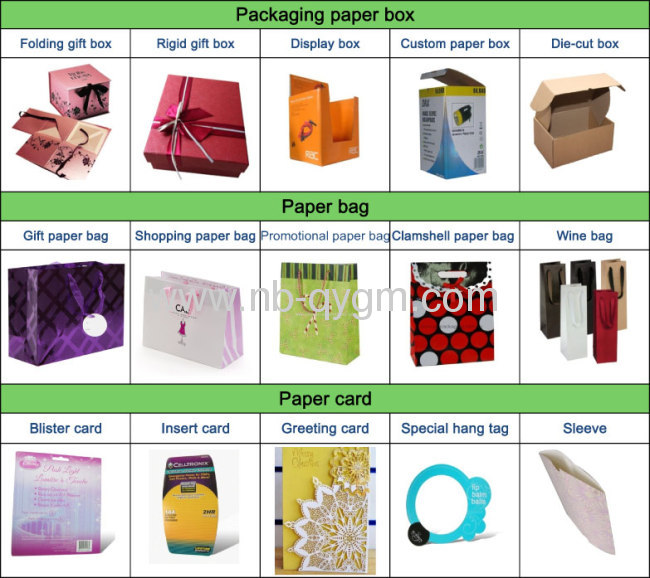 Main printing maching: (Japanese Komori 4 colors+ Japanese Komori 6 colors printing machine)
The main paperboard material and technical information which is also suitable for
Printed Shopping Paper Bags
, please check the below tables:
| | | |
| --- | --- | --- |
| LAMINATION | The printed sheet is coated with a protective layer of plastic or metal foil - the laminate. Usually there are three types of lamintation, they are gloss, matt and dull polish laminates, gloss and matt are all popular. The laminate provides excellent protection against dirt, moisture and wear. Lamination can also be done for aesthetic reasons. | |
| VARNISHING | To add a thin water glazing oil on the surface, in order to improve printing surface. | |
| HOT FOIL STAMPING | A text or pattern in metallic foil is applied to the cartonboard with the aid of heat, often in combination with embossing | |
| EMBOSSING | The raising of paper using specific tools to accomplish the task, the part of embossing looks outstanding and a little higher than circumjacent paper. | |
| PASTING | To combine two or more cartonboard sheets together with adhesive or wax to create a single unit. | |
| SCORING | A fine line is scored in the cartonboard to create a flexible hinge. A scored line is less durable than a crease line. | |
| DIE CUTTING | Die cutting - it is necessary to cut into a shape, e.g. to create a blank which can be folded and erected to form a carton. After printing, die-cutting and creasing are done simultaneously in die-cutting machines. Before procedure of Die cutting, it is important to make a precision cutting mould in advance. | |
| PERFORATION | A row of punched holes which make it easier to tear off e.g. a coupon or reply card. | |
| CREASING | Creasing is important and necessary for folding box, it is different with scoring, it is pressed by certain power through creasing machine, there is no break on the surface. When you fold the box, it is easy to shape as creasing line. | |
| | |
| --- | --- |
| Type of paperboard | SBS (Solid Bleach Sulplate)orSBB (Solid Bleach Board) |
| Description | also refers to: Coated Ivory Board, White Card paper)1. SBB or SBS consist of bleached chemical pulp inside and coating outside, it is a virgin fibre grade of paperboard 2. The color: white on two side. A good whiteness with three grades: grade A not less than 92%, grade B not less than 87% and Grade C not less thana 82%. 3. A medium density board with good printing properties.4. Easy to be cut, creased, hot foil stamped and embossed. |
| Type of paperboard | SUB (Solid unbleached board) |
| Description | SUB (Solid Unbleached Board) is a grade of paperboard which is typically made of unbleached chemical pulp. |
| Type of paperboard | FBB (Folding boxboard) |
| Description | FBB (Folding boxboard) also referred to as GC or UC. 1. FBB paperboard consist of multiple layers of chemical and mechanical pulp.The top layer is of bleached chemical pulp with an optional pigment coating. 2.A low density material with high stiffness and has a slightly yellow colour inside. |
| Type of paperboard | WLC - White Lined Chipboard with white back |
| Description | White Lined Chipboard refers to: WLC, GD, GT or UD. WLC consists of mult-layers of waste paper or recycled fibers, and two to three layers of coating on the top and one layer on the reverse side. Inside color is grey, but outside surface is white color. |
| Type of paperboard | CCNB (Clay Coated News Back )or WLC (White Lined Chipboard) |
| Description | CCNB consists of white clay coating, recycled newspapers and mixed paper. It has one side coated white color on the top sheet, and another side uncoated grey color as back. So CCNB is available to print full colors on the top sheet. Used in a huge variety of applications because it is reasonably priced and sustainable. |
| Type of paperboard | Art paper |
| Description | also refers to: coated art paper;copper plate paper;copper printing paper.Art papers are one of the highest quality printing papers. The grammage varies from 100 to 230 g/m2. These papergrades are triple coated with 20 - > 40 g/m2/side and have matte or glossy finish. |
| Type of paperboard | Clay Coated & Uncoated- Kraft |
| Description | Unbleached 100% recycled fibres, including a minimum of 60% post consumer waste. Light natural brown in color with flecks from the fibres. Clay Coated Kraft Back (CCKB) has a smooth, white clay coating for high quality printing applied to the top of the sheet.Stronger than CCNB |

SBB(C2S) construction:
1 - Coating
2 - Bleached chemical pulp
1 - Coating
Not drawn to scale

SUB construction:
1 - Coating
2 - Solid Unbleached Board
Not drawn to scale

FBB construction:
1 - Coating
2 - Bleached chemical pulp
3 - Mechanical pulp
4 - Unbleached/Bleached chemical pulp

WLC construction:
1) Two or three coating layers
2) Pulp or white recovered fiber
3) Recovered fibre underliner
4) One or more layers of mixed and/or recovered fiber
5) Pulp or white recovered fiber
6) Back coating
Please kindly contact us for more details.