Product name : High quality professional HDMI cable assemblies mini HDMI to HDMI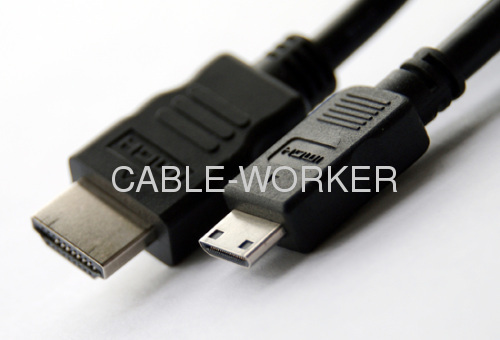 A sample of High quality professional HDMI cable assemblies mini HDMI to HDMI


Connector Type: mini HDMI male to HDMI male
Connector Finish: Gold
Length: 3ft
Gauge: 30AWG
Conductor Plating: Tin
Ferrite Cores: No
Net Jacket: No
Built-in Equalizer: No
Supported Resolutions: 480i to 1080p
HDMI Certified: Yes
HDMI Spec: 1.3a
Category 2 Certified: No
HDCP Compliant: Yes
CEC Compliant: Yes
ROHS Compliant: Yes
HDMI is designed to deliver both clear high definition video and high resolution multi-channel digital audio.
HDMI Mini (type C) connectors are the new high definition standard for connecting HDMI equiped portable devices such as high definition camcorders. This HDMI cable will allow you to connect your portable device to the standard HDMI connector (type A) found on most televisions and A/V recievers. These cable meet HDMI 1.3a specifications.
Question: What's the difference between a Mini-HDMI (Type C) and a Micro-HDMI (Type D) connector?
Answer: Mini-HDMI connectors were introduced as part of HDMI specifications version 1.3 and were designed for use with small portable electronics such as camcorders and portable media players. The mini HDMI connector is a more compact version of the standard HDMI (type A) connector. The size of the connector tip is 2.42mm x 10.42mm.

The Micro-HDMI connector is an even smaller version of the HDMI connector with a dimension of 2.8 x 6.4mm. It was introduces as part of HDMI specification version 1.4. It was designed for use with ultra portable devices such as cell phones and pocket sized media devices.

Both Mini and Micro connectors have the same 19 pins found on the standard (type A) HDMI connectors. They can be interconnected with each other using adapters or adapter cables.