TBM JG Beam Clamp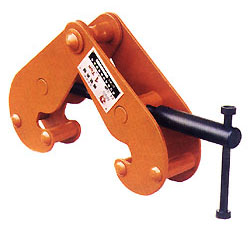 Safe working load
(kg)
Adjustable beam width
(mm)
A
B
C
D
E
F
G
H
max
(mm)
min
(mm)
max
(mm)
(mm)
(mm)
(mm)
min
(mm)
max
(mm)
(mm)
(mm)
1000
75-220
260
180
260
64
5
215
102
155
25
22
2000
75-220
260
180
360
74
6
215
102
155
25
22
3000
80-320
354
235
490
103
8
260
140
225
45
24
1, Rated load caused by 2 tests is regarded as the standard,and two as a team are used during the hoist
2, During the hoist,hung articles are forbidden collision
3, Don't overload to use

Beam Clamp
1.Tiger beam clamp is suitable for the attachment to steel beams as a semi
permanent lifting point to be used in conjunction with hoist blocks, tirfors and
ratchet hoists etc.
2.The clamp can also be used for the lifting and transfer of steel beams and as a
pulling clamp.
3.The beam clamp is fitted with a screw spindle which allows easy adjustment and high
clamping force to the various flange sizes within its capacity.
4.The safety factor up to 5 times of S.W.L.
5.Low headroom because of the built-in suspension bar.

Product Introduction:
(1)Beam clamp is a equipment that can quick form hanger or connecting point in I-beam monorail.
(2)The beam clamp should be formed a complete set with chain hoist or other lifting machines.
(3)The beam clamp was installed on the bottom flange of I-beam.
(4)The beam clamps is adopt left and right screw thread construction for leading screw, clamping is quick in operation.
(5)The scopes of adjustments is wide, adjustment is very convenient.
(6)Main parts of support strength are made by alloy steel.