Our company

We are manufacturer and exporter of Textile weaving machine since 1973.
Main product:air jet loom,air jet gauze loom,water jet loom,fiberglass weaving air jet loom
We are not only selling machine,but also technique service and guide.
For new client in textile weaving industrial or medical gauze production line,we can supply full support from factory
building,machine installation,worker trial and sales service in abroad.
Now our WEAVING machine has exported to
Uzbekistan,Russia,Turkey,India,Pakistan,Sri Lanka,Bangladesh,Indonesia,Tailand,Ethopia,South Africa,South Korea,Kazakhstan,Uganda,(Asia,Europe,Africa)
More details,welcome to contact with us.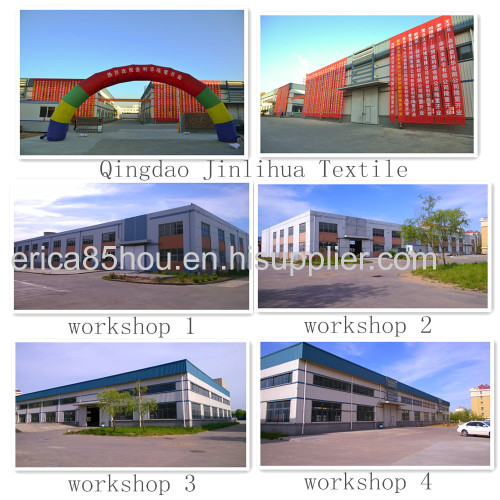 Main Specification
Working range

Polyster yarn

Reed width (cm)

Nominal:150,170,190 ,210,230 260,280 330360

Useful reeding width:reduct 0-60cm

Filling selection

1 color 2 color at will

Weft density range

6-60pick/cm

Motor

3.5kw,4.6kw selected according to thecertain model

Shedding

Plain type 2-8pcs heald frame

Positive cam machine,4-10pcs heald frame

Dobby(mechanical),upper negative dobby orelectronic dobby,2-16 heald frame (according to customer's demands)

Let-off

Electronic let off-ELO

Mechanical let-off

Flange diameter:800mm

Take-up

Mechanical take-up

Electronic take-up

Upper and down temple(according to thevarity of fabric)

Waste filling removel

Mechanical take-up 3 roller

Cutter

Mechanical cutter

OPERATION

START – DRIVEN BY RUSH START MOTOR.STOP BYELECTROMAGNETIC BRAKE AT PRGRAMMED POSITION

ARRANGE,RUN,FORWARD INCHING,REVERSEINCHING,PROGRAMMED POSITION STOP AFTER

ONE CYCLE REVERSE ROTATION.

BEATING

CRANK BEATING,SWORD BEATING SYSTEM OIL BATH LUBRICATION SYSTEM.

FILLING INSERTION :

SINGLE PUMP (PLUNGER TYPE SPRING PRESSURE SYSTEM)

DOUBLE NOZZLE (NEEDLE TYPE CERAMIC ) STBILIZER SYSTEM

FEELER – IR FEELER OR OPF FEELER,USING OPTICAL CABLE.

YARN PACKAGE STAND

FLOOR MOUNTED HORIZONTAL STAND FOR – 4 PACKAGE.(2COLOUR )

CATCH CORD

SPINDLE TWISTING SYSTEM.

TEMPLE

TOP MOUNTED,2 BARREL TYPE WITH 2 RING EACH.

WATER SUCTION

SLIT TUBE SUCTION (BLOWER TYPE )
Why Choose Us?
A.A strong team for sales and service,A strong team for technique,A strong company for production.
B.Become a professional manufacturer,a reliable and believable suppliers for client from domestic and abroad.
C.Client is not God,they are our family memeber.
D.Delivery on time,safely and quickly transport the goods to customer's factory.
E.Every accessories are packed and completed. not allowed any short spare parts
F.For long cooperation,we always work for whole market,not one or two customer.