Product name:
Green Goose Biots Loose Feather Hair Extensions - FE0107: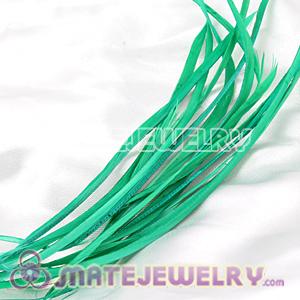 These Real Goose Biot feather hair extensions are truly one of nature's most beautiful natural products. As in most type of feathers, the male feathers are stunning, while the female feathers are in natural brown tones. The natural iridescent feather eyes are the most well known, with its arrangement of deep iridescent at the tip that exhibits hues of brilliant blue, green, amber and purple. With the wide variety of natural colors in the feathers they easily go with many color pallets. Goose Biot feathers are a favorite for carnival, masking making, home decor, floral arrangements and much more. The Feather Place offers several treatments to this already beautiful feather from stem dyeing, bleached/dyed, stenciling to tipping.Our feathers are a very economical way to decorate great "Bang for your Buck".
1. Feature: These feathers are Real Natural Goose Feathers,they are stiff and extemely beautiful and uses include hair extension,they are strips of spiky feathers that are trimmed from the short side of a goose wing quill. They have many decorative uses especiallyin feather hair extensions,millinery and craft applications.Feathers vary widely in shape and size and all feathers are handpicked. If you get a few imperfect feathers it is because I put in EXTRA feathers for you hoping you will find some use in it
2. Material: 100% natural Goose
3. Size: About 14~18cm Length
4. Color: Dyed Green
5. Package:10pcs in one bag
Tips:Many people may want to make their own fashionable feather hair extentions, but they just don't know how to install feather extensions into their hears. Now in this post, you will learn this lesson with us.
Step 1:Decide where you would like to install your feather extension, then peel back a layer of hair to expose the roots. Gather a small strand of hair in your fingers, and make sure the roots are close together.
Step 2:Wrap the wire tool around the strand of hair. Take the two ends of the wire and thread them through the crimp bead. Pull the hair through the bead with the wire ends.
Step 3:Slide the crimp bead to the hair roots and carefully thread your feather bundle through the bead. Make sure the feathers stick all the way through.
Step 4:Use the pliers to firmly crimp the bead. To ensure comfort, crimp it in a way so it will lie flat against the head. If necessary, trim extra feathers sticking through the bead with scissors.
Removal:Your feather extensions should stay in for 2-4 months. To remove them earlier, take pliers and gently squeeze the crimp bead in the opposite direction until it is approximately O-shaped. Then, remove the feathers and slide the crimp bead out. The crimp beads are designed to only be used once, but the feathers can be installed over and over.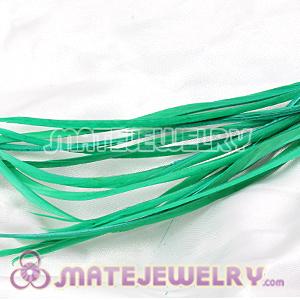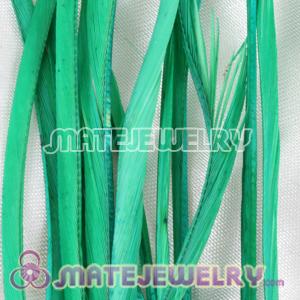 More picture details about Green Goose Biots Loose Feather Hair Extensions


If you want more detailed information of Goose Biot feather hair extensions, please contact with us, we will reply as soon as possible (general in 24 hours).