Product name:Fashion Green Synthetic Feather Hair Extensions Cheap :

The Original Featherheads are the original feather hair extension. The feather ranging in length from 15 – 40 inches.Our feathers come in a full spectrum of colors—from subtle and natural to playful and wild—and a variety of lengths, from 15to 40 inches. They can be brushed, blow-dried, straightened and curled (up to 450°F)—basically, they can be treated like natural hair. Our product lines include Originals, synthentic,Accents, Shorties and Pet Plumes. So, what makes our feathers stand out? Well, they're effortless to install They're reusable. All natural. High-quality. Hand-crafted. And our patent technique of bonding the feathers means that the feathers will remain in place longer—up to two months, depending on how they're cared for.
1. Feature: Synthetic Feather Hair Extensions are extemely beautiful and uses include hair extension, jewelry, crafts, decorations etc. Feathers vary widely in shape and size and all feathers are handpicked. If you get a few imperfect feathers it is because I put in EXTRA feathers for you hoping you will find some use in it.
2. Material: 100% Synthetic striped Feather
3. Size: About 38 cm Length
4. Color: Green
5. Package:10pcs in one bag
6. Delivery by DHL, TNT, EMS etc, delivery time is 3~15 days.
Tips:Many people may want to make their own fashionable feather hair extentions, but they just don't know how to install feather extensions into their hears. Now in this post, you will learn this lesson with us.
Step 1:Decide where you would like to install your feather extension, then peel back a layer of hair to expose the roots. Gather a small strand of hair in your fingers, and make sure the roots are close together.
Step 2:Wrap the wire tool around the strand of hair. Take the two ends of the wire and thread them through the crimp bead. Pull the hair through the bead with the wire ends.
Step 3:Slide the crimp bead to the hair roots and carefully thread your feather bundle through the bead. Make sure the feathers stick all the way through.
Step 4:Use the pliers to firmly crimp the bead. To ensure comfort, crimp it in a way so it will lie flat against the head. If necessary, trim extra feathers sticking through the bead with scissors.
Removal:Your feather extensions should stay in for 2-4 months. To remove them earlier, take pliers and gently squeeze the crimp bead in the opposite direction until it is approximately O-shaped. Then, remove the feathers and slide the crimp bead out. The crimp beads are designed to only be used once, but the feathers can be installed over and over.
| | |
| --- | --- |
| Feature | green synthetic hair feather |
| Material | synthetic feather |
| Capability | Top Quality, Large Stock, Qiuck Shipping |
| MOQ | 100 pcs, small order is available in the first business |
| Payment | TT, Western Union etc |
| Discount | Order more discount more |
| Delivery | by DHL, TNT, Fedex or EMS etc, deliver time 3~15 days |
| Price List | Pls feel free to "Download Quotation" for more styles |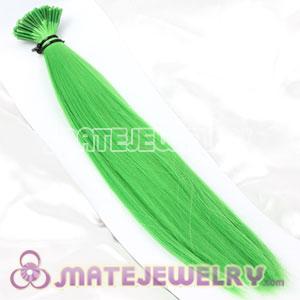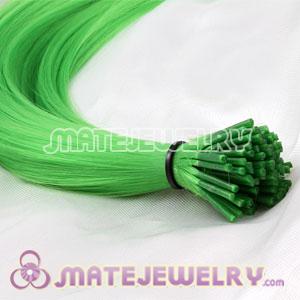 More picture details about hair feather extensions

Matejewelry is a online store for:CostumeJewelry,Jewelry Sets,european Jewelry,Shamballa Jewelry,Basketball Wives Jewelry , Bamboo Earrings, 925 Sterling silver Earrings,Crystal Earrings; Shamballa Bracelet , Shamballa Bracelet Beads, Wood Buddha Bracelet,Children Bracelets,Alloy Square Bracelet, String Macrame Bracelets, Sterling Silver Bracelet, Handmade Leather Bracelet,Mood Bead Bracelets;Fashion Finger Ring,Sterling Silver Beads&Charms,Silver European Spacers/Clips/Stoppers/ Safety Chains;Lamp Work Glass Beads,Murano Glass Beads,european Gemstone Beads,Pave Crystal Beads,Fashion Alloy Charms,European Holiday Charms,Family Charms,Birthday Beads Charms,Symbols Charm Beads,Silver Baby/Faith /Anniversary & Wedding /Graduation /Food & Drink s/Flowers/ Sports /Zodiac Signs/ Animal Charms Etc;Feather Hair Extensions,False Feather Eyelashes,Feather Hair Band/Clip,Feather Mask,Hair Extension Kits; Wood Buddha Necklace,String Necklaces,Korean silk necklace; Pearl Jewellery Sets;Sterling Silver Pendant,Crystal Pendent, Fashion Alloy Pendant,Silk Scarves,Jewelry component ,Jewelry supplies.Phone Accessories,Cell Phone Case,Earphone Jack Plug , Phone Speaker Amplifier Etc.


About Shipping:

If you want more detailed information of hair feather extensions , please contact with us, we will reply as soon as possible (general in 24 hours).
We will prepare your hair feather extensionsafter we receive your payment, and give you a tracking number after we send out your goods.
1. We only ship your parcel strictly upon you confirmed mailing address. We are not responsible for missing parcel with unconfirmed mailing address.
2. We ship the items within 3 business days from Monday to Friday (Beijing Time) after payment. Most items will be shipped within 3 working days (except public holidays and unexpected things) by airmail or express by DHL, TNT, EMS etc.
3. Any question of shipping, pls email or call us directly for more details.
Payment Methods:
Once you confirm the order, you can pay by: Western Union,T/T(Bank Wire), Credit Card etc. More other questions pls contact us freely by email or call us.
What is our return policy?
If you are unsatisfied with the hair feather extensionsyou receive, we accept returns up to 10 days after the order has been delivered to the customer. The process for making a return is as follows:
1) You must send an email to let us know you making a Return;
2) You must include a copy of your original invoice in the return box, as well as a note explaining why the jewelry is being returned;
3) All items must be returned new and unused in the original packaging;
4) All products must be received back in the original package and condition in which they were shipped;
5) We will give a refund, minus shipping & handling and discounts when we receive the goods from you.
For more of Discount policy, Shipping cost, Payment methods, Custom etc. Pls read FAQ page.