Stainless Steel Single Ear Pinch band clamp
1.Beverage, automotive, marine, motorcycle and industrial pinch clamps.
2.The patented 300 Series Stainless Steel construction offers excellent strength and corrosive resistance. It offers sturdy and constant closure for extended periods oftime.
3.Suitable for Poly and Braided Tubing. Additional sizes are available. Packaged bulk and in 100 piece poly bags. Forms a complete "Seamless" 360 degree seal ensuring long-term leak proof closure for critical engine fluid lines.
4.The clamp installs easily/quickly, which offers quick production line attachment of hose and fittings.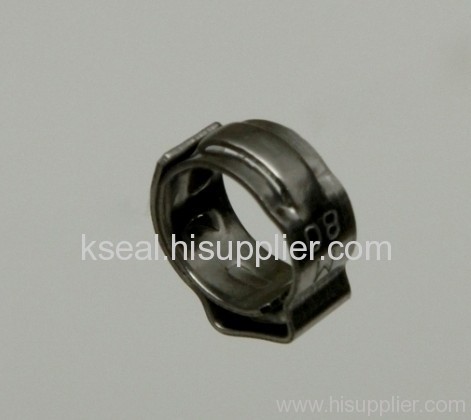 single ear hose clamp
Seamless pinch clamp
Material: all SUS304
Size (mm): 8.7, 9.5, 10.5, 11.3, 11.9, 12.3, 12.8, 13.9, 14, 14.5, 16.2, 17, 17.5, 18.5, 19.8, 21, 24.1, 25.6, 32.1, 54

Offers low profile, which is excellent for use in areas where space and accessibility are of concern. Less expensive than the conventional worm drive clamp in terms of clamp and installation costs. Proper installations and clamp closure eliminates the need to re-tighten and provides a tamper-proof assembly.
| | | | | | |
| --- | --- | --- | --- | --- | --- |
| Part Number | Size | Width(W) | Thinkness(T) | Open Dia. | Closed Dia. |
| KSL7123 | 12.3mm | 7.0mm | 0.6mm | 12.3mm | 9.8mm |
| KSL7128 | 12.8mm | 7.0mm | 0.6mm | 12.8mm | 10.3mm |
| KSL7133 | 13.3mm | 7.0mm | 0.6mm | 13.3mm | 10.8mm |
| KSL7138 | 13.8mm | 7.0mm | 0.6mm | 13.8mm | 11.3mm |
| KSL7140 | 14.0mm | 7.0mm | 0.6mm | 14.0mm | 11.5mm |
| KSL7145 | 14.5mm | 7.0mm | 0.6mm | 14.5mm | 12.0mm |
| KSL7157 | 15.7mm | 7.0mm | 0.6mm | 15.7mm | 13.2mm |
| KSL7162 | 16.2mm | 7.0mm | 0.6mm | 16.2mm | 13.7mm |
| KSL7164 | 16.4mm | 7.0mm | 0.6mm | 16.4mm | 13.9mm |
| KSL7170 | 17.0mm | 7.0mm | 0.6mm | 17.0mm | 14.5mm |
| KSL7185 | 18.5mm | 7.0mm | 0.6mm | 18.5mm | 16.0mm |
| KSL7192 | 19.2mm | 7.0mm | 0.6mm | 19.2mm | 16.0mm |
| KSL7198 | 19.8mm | 7.0mm | 0.6mm | 19.8mm | 16.6mm |
| KSL7210 | 21.0mm | 7.0mm | 0.6mm | 21.0mm | 17.8mm |
| KSL7226 | 22.6mm | 7.0mm | 0.6mm | 22.6mm | 19.4mm |
| KSL7241 | 24.1mm | 7.0mm | 0.6mm | 24.1mm | 20.9mm |
| KSL7271 | 27.1mm | 7.0mm | 0.6mm | 27.1mm | 23.9mm |
| KSL7286 | 28.6mm | 7.0mm | 0.6mm | 28.6mm | 25.4mm |
| KSL7308 | 30.8mm | 7.0mm | 0.6mm | 30.8mm | 27.6mm |