Detailed Product Description
Acne Treatment, Blood Vessels Removal, Pigment Removal, Skin Rejuvenation, Skin Tightening, Wrinkle Remover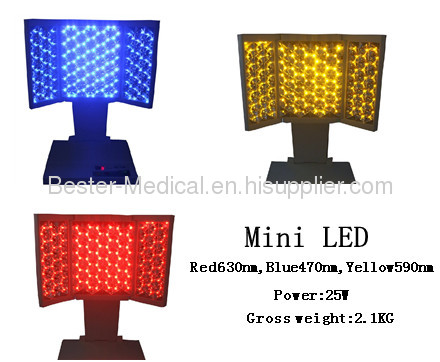 Introduction
LED luminescence, also called cold laser is a kind of homochromy light with high purity and narrow spectrum and characterized of high safety when compared with laser or intensive pulse light (IPL); it is even safer than sunlight as it does not contain harmful ultraviolet light or infrared light.
Application
1. Removing flecks, sunning spots, pigment sediments, reduction of sunlight damage to skin;
2. Treatment for spots, dark sores and folliculitis;
3. Lightening red spot acnes and capillary vessel expansion;
4. Smoothing fine wrinkles and tightening loose or aging skin;
5. Shrinking coarse pores and curing skin roughness;
6. Treatment for dark or dim skins caused by deficient metabolism or circulation;
7. Release of fatigue, reduction of pressure and improvement on sleep;
8. Curing skin scurf or folliculitis-caused hair losing;
9. Recovery from slight pathological replacements of facial nerves;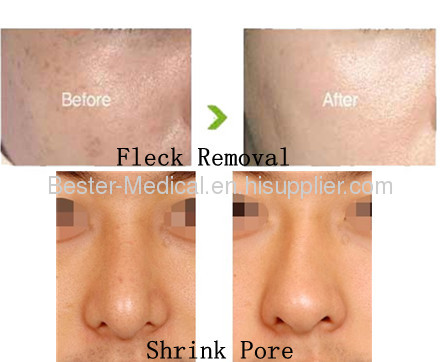 Red Light:wavelength(630mm).Stimulete the production of collagen.Collegen is the essential protein used to repair demaged tissue and to replace old tissue.Best for fine lines,reduce pore siza,qwollen after surgery.
Blue Light :wavelength(470mm).Acne bacteria contain Porphyins;the blue light is able to kill Porphyrins due to the high affinity with this wavelength.The blue light furthermore has a claming action resulting effective on hyper sensitivity.
Yellow Light:wavelength(590mm):Yellow is a warm color that can stimulate both the lymphatic and the nervous system;it is used to tone muscles and to boost immune system and futhermore helps to relax and restore the sensitive skins balance.
Advantage
1. No pain, no side effects, or downtime
2. Remarkably safe and effective for all skin types
3. Non-thermal, non-invasive, and non-ablative
4. Fast and convenient
5. Treats large areas such as the entire face or chest at once
6. No aftercare is needed
7. Compatible with other skin rejuvenation techniques
8. Comprehensive anti-aging skin care