Product name: Pigment Blue 15:2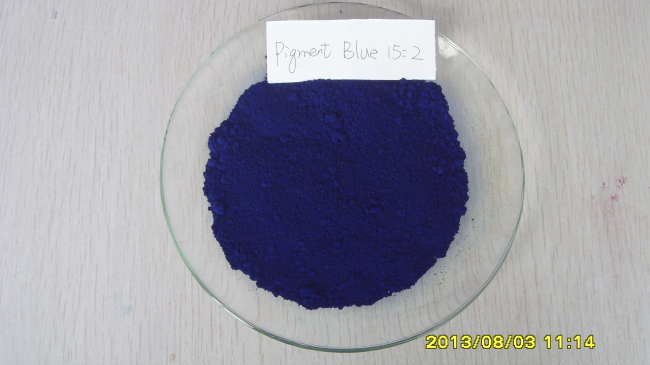 Pigment Blue 15:2 Molecular Structure
1.

Product Information




1) Product name

Sunfast Blue 3518K




2) Color index name




2) Coating

Industry paints, powder coating




3) Inks

—




4) <a FCK__AnchorC" name="OLE_LINK1">Textile paste

—




2.

Technical comments

Bright reddish-shade alpha blue with excellent heat stability and resistance properties, higher concentration, good dispersion, recommended for PE, PP Masterbatch, also can be used for coating.

Pigment blue 15:2 : Alpha type strong red and blue, and solvent resistance, high temperature resistant, bright color, high tinting strength


Detailed introduction to plastic pigment Blue 15:2:
1. Pigment Blue 15:2. easy-dispersed reddish blue,high-strength,good resistance .
3. working temperature and time:depending on the temperature of wax 150-200°C (around 8-10 minutes).
4.PH Value 6-7,,Density 1.8 ,Oliabsorption 7
5. Huamao Chemical Import/Export Corporation from Huanghua city Hebei Province, China. Our company is a professional manufacturer mainly producing Phthalocyanine Blue15:0 15:1 15:3 15:4 and Phthalocyanine Green, and other relevant chemical products.
We have been keeping the business relations with Chemical companies of Pakistan, Korea, Brazil, Malaysia, Singapore and other more than 10 countries in recent more than 10 years.
6.
ITEM

REQUIRED

SAMPLE TEST RESULT

Color strength%

100±2

100

Tone

Similar

reddish

Moisture%

1.5

0.85

Water soluble matter%

1.5

0.90

Oil absorption%

40±5

38.5

Flow(mm)

20±2

22.2

Conductivity(us/cm)

150

130

Hot fastness(°C)

200

200

PH value

6.2-7.5

7.1

Residue on 325 mesh sieve(ppm)

150

125

Magnetic metal conten(ppm)

10

8

Conclusion: PASS




Henghao can provide free Pigment Blue 15:2 sample to you for your test.Pigment Blue 15:2 from Henghao have stable quality and competitive price.