Rack end

1.Internal attribute standard in accordance to American Dupont 100 P Plastic Configuration.
2. 45 # steel shell is electrophoretic black and 40 Gr pin body.
3. Special made for Toyota models.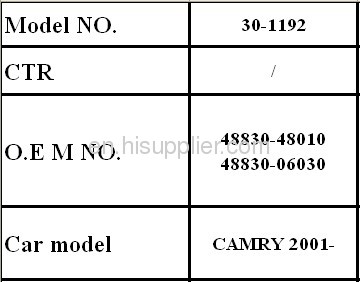 Our main products of car chassis parts which incllude ball joint,tie rod end, rack end, stabilizer,side rod assy, etc.

Quality is the first concern , durable products at affordable price is what we always working hard for
The advantage we have:
1) Focus on details
2) Full line auto parts One-stop service
3) Well quality control and guarantee
4) Minimum OEM/ODM quantity request

Drawing on the strength of this organization and our passion for detail, Ningbo Central Star Precision Industry Co., Ltd is committed to providing its customers with the quality products that represents the best value for our customers' auto parts investment. We are dedicated to your continued satisfaction.