13-15mm Helix Nature Freshwater Pearl Spacer Beads in Silver Core european Compatible


1. Feature:
Each nature european freshwater pearl made by high skilled worker, it is all handmade , Perfect processing, 100% physical picture, All european freshwater pearl can vary slightly in size, shape and color.
2. Material:
perfect 925 sterling silver single core, naturel freshwater pearl bead
3. Pearl Type:
Nature Freshwater Pearl
4. Pearl Size:
13~15mm button pearl, nature size.
5. Pearl Color:
Light Amethy, nature color
6. Pearl Quality:
AA (About Pearl Grade)
7. Core Size:
4.5mm hole, The european freshwater pearl are compatible with all major brands of create your own jewelry as well as a wide variety of stringing materials, including our own add a bead bracelets and bangles.
8. Weight:
1.5~2.2 gram each bead (Approx.)
9. Payment
is TT, Western Union, etc
10. Packing:
Opp Bags for inner packing, carton box for outer packing
11. Delivery
by DHL, TNT, Fedex or EMS etc air express, deliver time 3~5 days
12. Adorner:
These high quality european freshwater pearl beads fit perfectly on bighole Jewelry, Largehole Jewelry, Italian charms, Lovecharmlinks etc chains as well as our very own interchangeable bracelets, necklaces and bangles too.
13. NOTICES:
Pearl is soft and fragile. It's easily changed because of dust or sweat. So there are some notices for keeping pearl jewelry.
1) How to wear Pearls: It's better to wear pearl regularly but don't wear it to go swimming or take shower. When you make up, you need to take off jewelry first.
2) How to clean pearls: Don't clean pearls with abluent and don't use toothbrush, rough cloth or facial tissue to rub it, if you want to clean pearl, you should use soft wet towel or fresh water.
3) How to keep pearls: Because the rigidity of pearl is very low, we should not put it with other jewelry. Soft jewelry box or bag is the best way to put pearls in. In the coffer, it's a little dry, you'd better put a glass of water in it.
14. About Freshwater Pearls:
The Cultured Freshwater Pearl is created by inoculating a ball of the Mother-of-pearl into the cap of the freshwater pearl-mussel. Where it stays for 2~5 years in competent care. Each mussel can contain from 10~40 pearls in different shapes, size and colours. The charm of the Freshwater Pearls is the variety of shapes and the beautiful play in colours-the natural variety: white, cream, grey and pink and various died colours.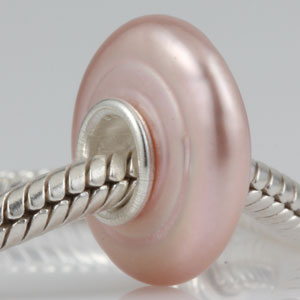 Each european freshwater spacer beads are high quality, well designed and exquisite processing.