Arc magnet
1. Materials:Neodymium-Iron-Boron magnets (Ndfeb magnet)
2. Certification: ISO9001:2000
3. Magnetic properties: High coercive force, (BH)max from 33 to 53MGOe, max working
temperature up to 230°C.
4. Grades: N33-N52,33M-48M,33H-48H,30SH-45SH,30UH-38UH, 30EH-35EH;
5. Shapes: Segment/ Arc,
6. Sizes:R x r x H x Degree, Customized;
7. Coatings:Ni, Zn, gold, copper, epoxy, chemical, parylene and so on;
8. Applications:Widely used in motors, rotors, wind turbines/wind generators, etc.
9. Parameters: Grade(property), Size(R x r x H x Degree) or Drawing, Coating, Quantity, Etc.
10.Note:OurNdFeB arc magnet is customized, glad to give some suggestions if you need.

N38SH magnets with NICUNI coating, 72hours for salt spray test as standard, to be applied to motor ,8pcs magnets with 45degree can make up of a circle. The working temperature can reach 150degree for N38SH.

Different motor request different dimensions and angles, some pieces of segments can make up of a circle around rotor.

Our magnets have good consistency , can make motor work steady.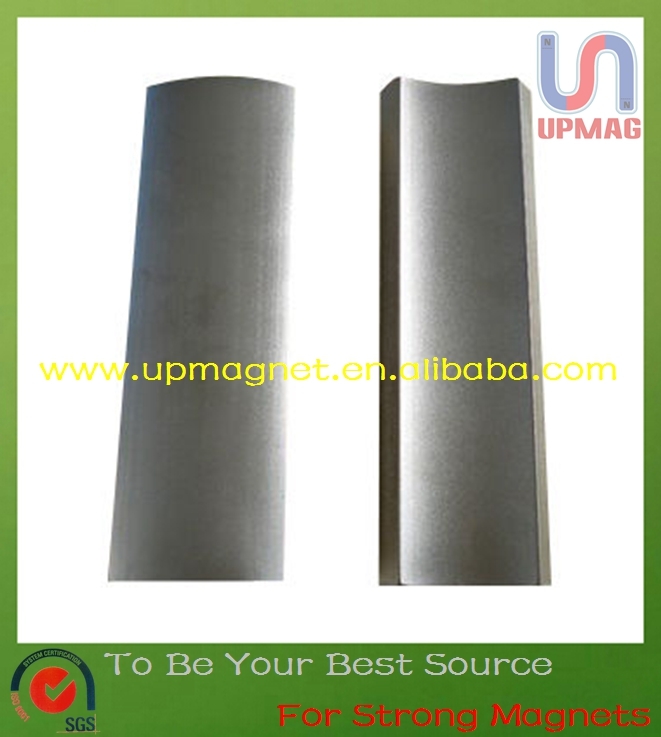 arc permanet Sintered NdFeB magnet

Available Coating Of Sintered NdFeB Magnets
Surface
Coating
Thickness(Microns)of coating
Color
Resistance
Salt spray Test Standard (hours)
Pressure Coating Test Standard (hours)
Passivation


1--2μm
Silver Grey
Temporary Protection
Not available
Not available
Nickel
Ni+Ni
10--20μm
Bright Silver
Excellent against Humidity
24
24
Ni+Cu+Ni
Zinc
ZN
3--8μm
Bright Blue
Good Against Salt Spray
24
Not available
C-Zn
shining Color
Excellent Against Salt Spray
48
Not available
CR3+Zinc
ZN
3--8μm
Bright Blue
Good Against Salt Spray
24
Not available
C-Zn
shining Color
Excellent Against Salt Spray
48
Not available
Tin
Ni+Cu+Sn
10--25μm
Silver
Superior Against Humidity
48
Not available
Gold
Ni+Cu+Au
2--10μm
Gold
Superior Against Humidity
Not available
Not available
Ag
Ni+Ag
2--10μm
Silver
Superior Against Humidity
Not available
Not available
Epoxy
Epoxy
10--25μm
Black,Grey
Excellent Against Humidity & Salt Spray
48
Not available
Ni+Cu+Epoxy
Not available
Zn+Epoxy
Not available

Manufacturing Process: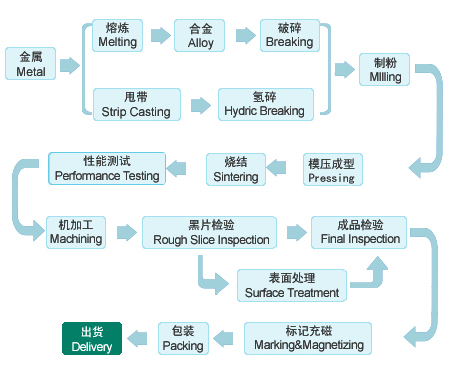 Different Magnetizing Dirction For Choice: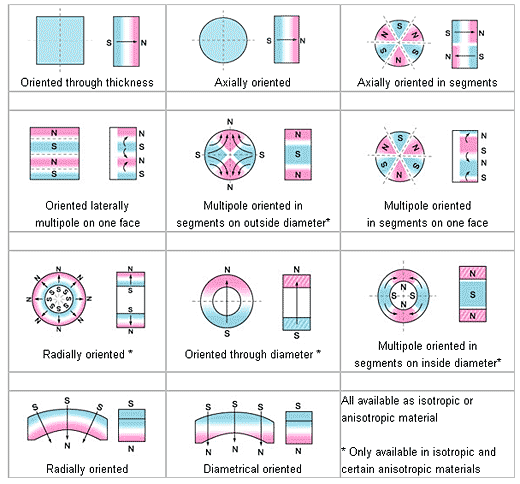 Property of magnet for choice: