Double Screw Extruder
is a Gentle molding design, which guarantees the quality of the material. Very much dependable valid design theory guaranteed the dependable operation of extruding. With special high torque drive system, gear tooth and shaft are made of high intensity alloy steel, and are treated by the cemented and gear grinding. The fresh development screw may be applicable to the dispensation having great amount of padding, and guarantee the compacted ness and optimum material distribution; the
parallel double Screw
Extruder
has core temperature regulation unit and well barrel cooling guaranteed the exact control of processing temperature for the materials. Matching with different standard of pipe die and auxiliary device, it is used to extrude different pipe, plate, profile and soft and rigid
PVC granulation
.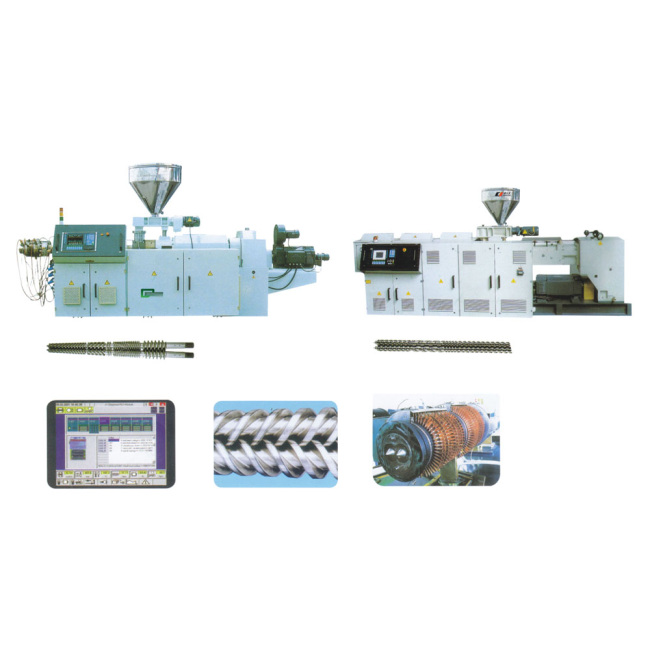 The SJSZ-51*22 means the diameter of double screw is 51 mm, and the Length-Diameter Ratio is 22. For the screw design, There are two types for SJSZ-51*22
double screw plastic extruder
, one is parallel screw and another one is conical design. For both of them can be widely used into making the PVC pipe, PVC profiles, or as the
PVC granulation
to produce the particles and raw materials. The following form shows more specific details about the SJSZ-51*22
double screw plastic extruder.


TECHNICAL SPECIFICATION
Type
SJSZ-51*22
ScrewDiameter
51/105
Maximum ExtrudingCapacity
125 kg/h
ScrewRotating Ratio
45 r/min
Main Output Power
22 kw
Barrel HeatPower
18 kw
Net Weight
3,000 kg
Our Double Screw Plastic Extruder is good in quality and competitive in price. We manufacture our own production line and supply OEM, ODM service according to your requirement. If you have any interest about our production line or any questions, please contact us either by calling +86 532 8523 5555.