Aluminum-Nickel-Cobalt Magnet is high-energy permanent magnet, which posses high fluxdensity, high coercive, high energy product and extreme stability for temperature changes. It exhibits good resistance to demagnetization, stability in high temperatures and excellent conduction.
Fetures of Sintered Alnico magnets:
1\Even elements, excellent and stable magnetic performance
2\High hardness, machined primarily by grinding.
3\Sintered magnets of rare earth AlNiCo material, used in all kinds of fields
4\Excellent temperature stability
5\Magnetic properties can be effectively used by magnetizing the material after assembly in the magnetic circuit.
Magnetic property parameters of sintered alnico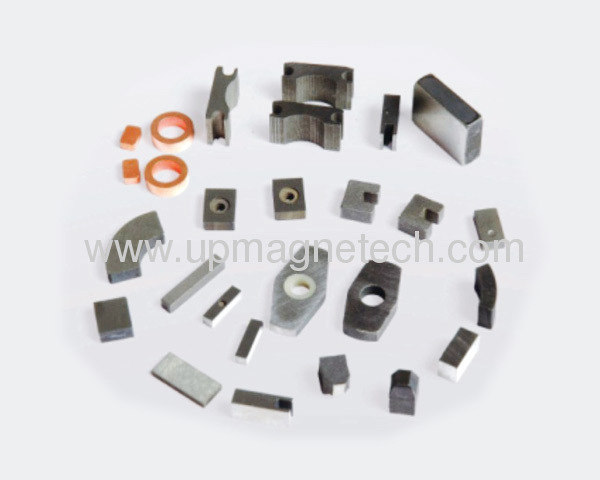 Grade
Br
Hcj
(BH)max
Tc
Tw
aBr
mT
kA/m
kJ/m3
℃
℃
%/℃
Gs
Oe
MGOe
FLN8
500/5000
40/500
9/1.13
760
450
-0.022
FLNG12
700/7000
48/600
12.4/1.55
810
450
-0.014
FLNGT18
600/6000
90/1130
18/2.20
860
450
-0.02
FLNG34
1200/12000
48/600
34/4.25
890
450
-0.016
FLNG37
1250/12500
48/600
37/4.62
890
450
-0.016
FLNGT28
1050/10500
60/600
28/3.50
850
450
-0.02
FLNGT38
800/8000
120/1500
38/4.75
850
450
-0.02
FLNGT42
880/8800
120/1500
42/5.25
820
450
-0.02
FLNGT33J
700/7000
140/1750
33/4.13
850
450
-0.025