Description of Piano type 2.54mm DIP switch
Model:DP-02
Pitch:2.54mm
Type:Piano
color :red and blue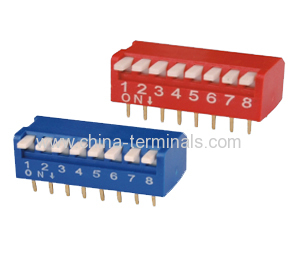 Supplier of Piano type 2.54mm DIP switch

1.Materical
BASE: UL94V-0 PBT Thermoplastic, Color: Black
COVER: UL94V-0 PBT Thermoplastic, Color: Black
ACTUATORS: UL94V-0 PBT Thermoplastic, Color: Black
TERMINAL: Copper Alloy wich gold plating

2.Mechanical
Operation Force: 0.2kgf max.
Stroke: 2.0mm
Operation Temp: -20ºC to 70ºC
Storage Temp: -40ºC to 85ºC

3.Electrical
Electrical Life: 2000 operations per switch 24VDC, 25mA
Non-Switching Rating: 100mA, 5000VDC.
Switching rating: 25mA, 24VDC.
Contact Resistance: 50mΩmax. at initial.
Insulation Resistance: (at 500VDC)1000mΩ m

4.Drawing of DIP switch DP-02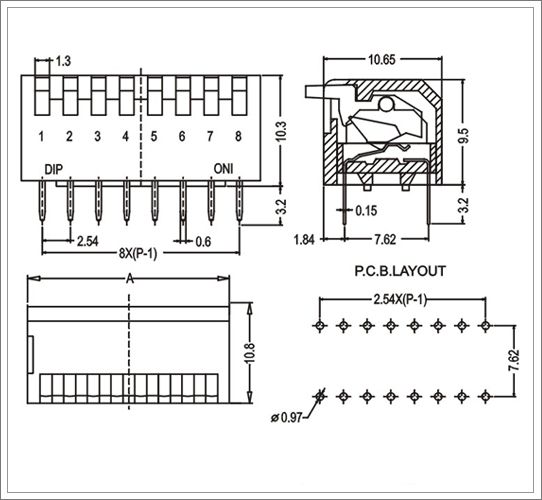 Drawing of Piano type 2.54mm DIP switch

5.How to order







6.Note:

1)DIP switch KF1002, Which color you need when you place an order.

2)About KF1002, we could produce pins from 2pin to 12pin
Shippment
1:Usually we ship your order by sea or by air . ..
2:We'll tell you the shipping status once your order has been sent.


Piano type 2.54mm DIP switch KF1002 has been presented above. It is good in quality and competitive in price. If you want more detailed information of this product or related problems, please contact with us, we will reply as soon as possible (general in 24 hours).