NGK: BP7HS
CHAMPION: RL78C
DENSO: W22FS
BOSCH: W225T1
EYQUEM: F80
HEX: 20.8 M14*1.25 12.7MM
Economical
Easy Starting
Improved Anti Fouling
Longer Service Life
Details about NGK B8HS:

Threaddiameter: 14mm
Threadreach: 12.7mm
Seattype: flat
Hexsize: 21mm
Tipconfiguration: non projected
Construction: Standard construction
Terminaltype: Removable
Possible spark plugs:
AC Delco 41F
AC Delco M40FFX
AC Delco 445Z
AC Delco MC41F
AC Delco M41FF
AC Delco S41F
Accel 156
Autolite 2652
Autolite 4092
Autolite 2635
Beru 14-3AU
Beru 14Z-3AU
Beru 14-3A1
Beru 260/14
Beru Z 39
Beru 14-4A1
Beru 14Z-4AU
Beru 280/14
Bosch W4A2
Bosch W3A0
Bosch W240T1
Bosch W4AP
Bosch W3A
Bosch W260M1
Bosch W4A5
Bosch W3AP
Bosch W260T1
Bosch W4A1
Bosch W280MZ1
Bosch W240MZ1
Bosch W4AC
Bosch W250T1
Bosch W3AO
Bosch W3AC
Bosch W260MZ1
Bosch W4A
Bosch W275T1
Bosch W240M1
Bosch stk 7528
Brisk N14C
Brisk N14
Champion L82C
Champion L78
Champion L78C
Champion stk 807
Champion stk 811
Daihatsu 995-2021-2361-32
Denso W24FS
Denso 6060
Denso W24FS-U
Denso 4038
Denso IWF24
Denso W24FSU
Denso TR24
Denso stk 4038
Enker F100C
Eyquem 100M
Eyquem 1000 MOTO
Eyquem 1000M
Eyquem 1000
Eyquem 1000L MOTO
General Motors 5613574
General Motors 5613453
General Motors 5614011
General Motors 5613158
Honda 98076-58740
Honda 98076-58710
Iskra F100
Iskra F100S
Isolator ZM14260
Isolator M14240
KLG F100
Lodge 3HN
Magneti Marelli CWC12NJ
Magneti Marelli CW9N
Marchal Valeo 12086
Marchal Valeo 11720
Mercruiser 33-807C
Mercruiser 33-82372M
Mercruiser 33-807S
Motorcraft AE1X
Motorcraft AE901X
Motorcraft AE1C
Motorcraft AE901
Motorcraft AT1X
NGK stk 5510
PAL (Brisk) N14C
PAL (Brisk) 14-9
Prestolite 1,40E+002
Prestolite 140
Splitfire SF409B
Splitfire SF409C
Tacti V91104038
Yamaha 94701-00041
Yamaha 94703-00041
Yamaha 94701 00041
Yamaha 94700-00041
Yamaha 94702-00041

| | |
| --- | --- |
| Manufacturer | MEG |
| Part Number | E8C=B8HS |
| Diameter | 14mm |
| Reach | 12.7mm (1/2") |
| Hex Size | 20.8mm (13/16") |
| Seal Type | Gasket Seat |
| Resistor | No |
| Terminal Type | M4 Thread |
| Electrode Material | Copper Core |
| Projection Type | Non Projected |
| Tip Configuration | Single Electrode |
non-resistor marine spark plugs have alumina silicate in its ceramic insulator, copper core and is triple sealed to help dissipate the heat. Comes with the a gasket seal, removable terminal nut and ground electrode.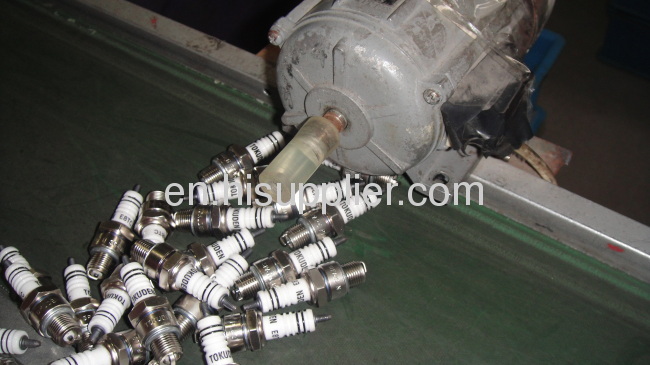 NGK Spark Plug: B8HS-10
When you require the best, count on The World Leader in spark plug technology MEG Spark Plugs. We offer the highest quality products for virtually every vehicle application. Count on MEG Spark Plugs to deliver the finest quality products and customer service. For Yamaha Engines: 115-2 Stroke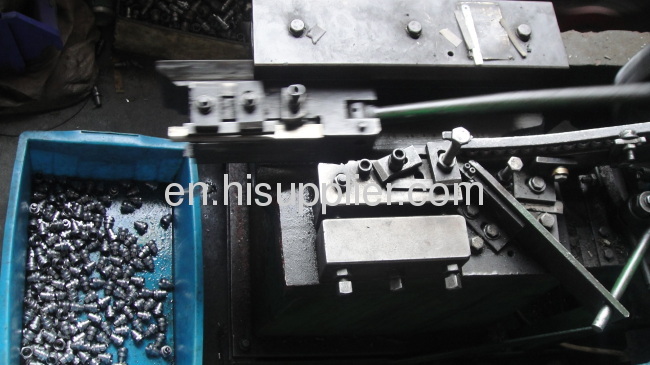 Spark Plug NGK B8HS, copper
M14x1,25, wrench width 20,8mm,
short thread
similar to BOSCH W3AC/W4AC/
DENSO W24FS-U
In the area of scooters with relatively low capacities and high revs, high demands are made of the spark plugs. Overheating with the risk of the sticking or sooting up of the spark plug are frequent problems with the incorrect choice of spark plug.
Spark plugs are available with different thermal values (stated as a figure in the type code and different from one manufacturer to the next), materials (e.g. copper, silver, platinum) as well as in certain standard unit sizes (which differ in terms of length, diameter and thread). Interference-suppressed spark plugs are a good idea with non-interference suppressed spark plug sockets: the radio frequencies of mobile phones, radios etc. are not affected. They are not recommended with weak ignitions, however.
Colder spark plugs are suitable for racing cylinders and use over long distances. In this context, the sound thermal output of heat to the cylinder head takes place, there is a risk of sooting, however.
Hotter spark plugs are used in sport and standard cylinders. The reach their operating temperature quickly but can also overheat.
Most spark plugs for scooters have a M14x1.25 SW 20.8 thread and are either long thread (19mm) or short thread (12.7mm). Please note: putting a long thread spark plug in a short thread cylinder head will damage the piston.
Conclusion:
regular exchange/replacement is compulsory. Spare spark plugs belong in every luggage compartment.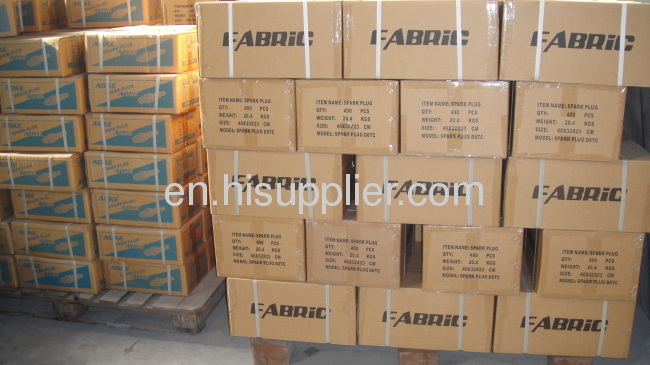 NGK Non-Resistor B8HS Spark Plug


Part No.:
5510
Spark Plug Product Code:
B8HS
Non Resistor Plugs lowers the Resistance which allows more spark to the Electrode. This allows for a better more powerful spark. Using Non Resistor plugs can allow Ignition Noise to creep into your radio system and other electronics. It is two heat ranges
NGK Spark Plug

B8HS-10
(5126)

Suits the following engines
Mariner
55 hp M55 663 (From EL-315379)
55 hp M55 663 (From E-004041)
60 hp Big Foot 1995-99
60 hp 675 (From S-000781)
60 hp 675 (From L-302051)

Tohatsu/Nissan
45 hp NS45A 1994-95 (Nissan)
50 hp M50D 1990-96, 2007 (Tohatsu)
50 hp M50C 1986-91, 2004-06 (Tohatsu)
50 hp NS50D 2 stroke 2007 (Nissan)
50 hp NS50C 1985-92 (Nissan)
50 hp NS50D 1991-96 (Nissan)
55 hp M55B 1980-86, 2004-06 (Tohatsu)
55 hp M55A 1980-83 (Tohatsu)
60 hp M60A 1986-91, 2004-06 (Tohatsu)
60 hp M60B 1992-07 (Tohatsu)
60hp M60C 2004-06 (Tohatsu)
60 hp NS55 1985-86 (Nissan)
60 hp NS60A 1987-92 (Nissan)
60 hp NS60B 1993-95 (Nissan)
60 hp NS60B 2004-07 (Nissan)
70 hp M70B 1992-96, 2007 (Tohatsu)
70 hp M70A 1982-86, 2004-06 (Tohatsu)
70 hp M70A2 1986-92, 2004-06 (Tohatsu)
70 hp NS70B 2004-07 (Nissan)
70 hp NS70B 1986-96 (Nissan)
90 hp M90A 1987-96 (Tohatsu)
90 hp NS90A 1987-96 (Nissan)
115 hp M115A 1993-95, 2004-06 (Tohatsu)
115 hp M115A2 1995-96 (Tohatsu)
120 hp M120A 1990-95, 2004-06 (Tohatsu)
120 hp M120A2 1995-96 (Tohatsu)
120 hp NS120A 1990-96 (Nissan)
140 hp M140A 1989-95 (Tohatsu)
140 hp M140A2 1995-96 (Tohatsu)
140 hp NS140A 1990-96 (Nissan)

Suzuki
35 hp DT32 2 cyl 1987-89
50 hp DT50 2 cyl 1977-84
140 hp DT140 4 cyl 1981-95
150 hp DT150 SSV6 1986-88
200 hp DT200 Carb V6 1986
200 hp DT200V Carb V6 1987-88

Yamaha
30 hp C30 2 cyl 1993-97
35 hp 3 cyl 1987-97
55 hp C55 2 cyl 1989-95
60 hp P60 3 cyl 1991-99
60 hp E60 3 cyl 1995-00
60 hp C60 3 cyl 1996-02
60 hp 2 stroke 2001-05
65 hp 3 cyl 1987-97
70 hp C70 3 cyl 2000-01
70 hp 3 cyl 2 stroke 1984-05
75 hp P75 3 cyl 1996-99
75 hp E75 3 cyl 1995-00
75 hp C75 3 cyl 1994-99
80 hp C80 3 cyl 1997
85 hp C85 3 cyl 1989-96
90 hp C90 3 cyl 1997-02
90 hp B90 3 cyl 1998-99
90 hp 3 cyl 2 stroke 1984-05
150 hp D150 Twin Prop V6 - 2.6L 1986-93

Champion Cross Reference: L78C