spark plug DCPR7E

| | |
| --- | --- |
| Part Number | DCPR7E |
| Diameter | 12mm |
| Reach | 19mm (3/4") |
| Hex Size | 16mm (5/8") |
| Seal Type | Gasket Seat |
| Resistor | Yes |
| Terminal Type | Fixed Terminal |
| Electrode Material | Standard Nickel |
| Projection Type | Projected |
| Tip Configuration | Single Electrode |
spark plug DCPR7E structure: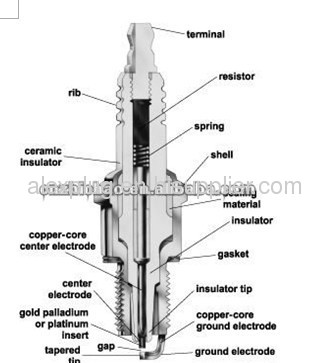 ALEX INDUSTRY LIMITED --professional spark plug manufacturer--15 years in spark plug production
We produce spark plug according to different cross reference and customer's drawing and samples.
Our daily production capacity of spark plug is 20,000pcs/day.
Normally,quantity above 10,000pcs with our packing,we finish in 10 days or ealier.
Now we can produce all of the spark plug type in the aftermarket according to customer different demand with spark plug reference No.
We test our spark plug before pack.
We are now exporting spark plugs to Germany, the UK, the USA, Russia, Japan, India, Brazil, Africa, etc. Our product quality can meet different customers' demands.
Our spark plug range cover auto spark plugs, motorcycle spark plugs, iridium spark plugs, platinum spark plugs, LPG spark plugs and CNG spark plugs with high quality.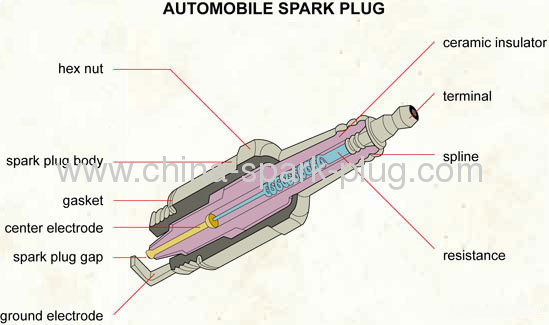 Automobile spark plug:
electric part generating sparks to ignite an internal combustion engine.
Ceramic insulator:
pottery support for the parts that conduct electricity.
Terminal:
place where a current-conducting wire is attached.
Spline:
hollow channel.
Resistance:
device that controls the strength of the current.
Ground electrode:
current device that unites the electrodes.
Spark plug gap:
space separating the current conductors.
Center electrode:
central current conductor.
Gasket:
spot where two part join together.
Spark plug body:
metal part of the spark plug.
Hex nut:
hexagonal piece of metal used to screw in a spark plug.
Details about NGK DCPR7E:

Threaddiameter: 12mm
Threadreach: 19mm
Seattype: flat
Hexsize: 16mm
Tipconfiguration: projected
Construction: Standard construction
Terminaltype: Removable
Possible spark plugs:
Bosch YR7DE
Champion RA6HC
Champion OE083
Champion RA8HC
Denso XU22EPRU
Denso 3179
Denso XU20EPRU
Denso XU22EPR
Denso VXU22
Denso IXU22
Denso XU22EPR-U
Denso stk 3179
Honda 98069-5797Q
Mazda 1Y0F 18 110
Mazda ZZS2 18 110
Mazda ZZS1 18 110
Mazda ZZSI 18 110
Mitsubishi MS851316
Mitsubishi MS 851 397
Mitsubishi MS 851 317
Mitsubishi MS 851 487
Motorcraft 1Y0F
NGK stk 3932
OMC 584918
Subaru 22401 KA260
Subaru 22401 KA240
Torch DK7RTC
Toyota 90098-72051



Fitment

Harley-Davidson Models

Dyna Fat Bob CVO FXDFSE : 2009
Dyna Fat Bob CVO FXDFSE2 : 2010
Dyna Fat Bob FXDF : 2008–2013
Dyna Low Rider Convertible FXDS : 1999–2000
Dyna Low Rider EFI FXDLI : 2004–2006
Dyna Low Rider FXDL : 1999–2005, 2007–2012
Dyna Street Bob EFI FXDBI : 2006
Dyna Street Bob FXDB : 2007–2013
Dyna Super Glide Custom FXDC Anniversary : 2013
Dyna Super Glide CVO FXDSE : 2007
Dyna Super Glide CVO FXDSE2 : 2008
Dyna Super Glide EFI FXDI : 2004–2006
Dyna Super Glide FXD : 1999–2005, 2007–2010
Dyna Super Glide Police FXDP : 2001–2007
Dyna Super Glide Sport EFI FXDXI : 2004–2005
Dyna Super Glide Sport FXDX : 1999–2005
Dyna Super Glide T-Sport FXDXT : 2001–2005
Dyna Switchback FLD : 2012–2013
Dyna Wide Glide CVO FXDWG2 : 2001
Dyna Wide Glide CVO FXDWG3 : 2002
Dyna Wide Glide EFI FXDWGI : 2005–2006
Dyna Wide Glide FXDWG : 1999–2005, 2007–2008, 2010–2013
Softail Blackline FXS : 2011–2013
Softail Breakout CVO FXSBSE : 2013
Softail Convertible CVO FLSTSE : 2010
Softail Convertible CVO FLSTSE2 : 2011
Softail Convertible CVO FLSTSE3 : 2012
Softail Cross Bones FLSTSB : 2008–2011
Softail Custom FXSTC : 2007–2010
Softail Deluxe EFI FLSTNI : 2005–2006
Softail Deluxe FLSTN : 2006–2013
Softail Deuce CVO FXSTDSE : 2003, 2005
Softail Deuce EFI FXSTDI : 2001–2006
Softail Fat Boy EFI FLSTFI : 2001–2006
Softail Fat Boy Firefighter FLSTF : 2010
Softail Fat Boy FLSTF : 2000–2013
Softail Fat Boy Lo Anniversary FLSTFB : 2013
Softail Fat Boy Lo FLSTFB : 2010–2013
Softail Fat Boy Peace Officer FLSTF : 2010
Softail Fat Boy Police EFI FLSTFI : 2006
Softail Fat Boy Shrine FLSTF : 2009–2010
Softail Fat Boy Shrine FLSTFI : 2005–2006
Softail Heritage Classic Peace Officer FLSTC : 2010, 2013
Softail Heritage Classic Police Special EFI FLSTCI : 2006
Softail Heritage Classic Shrine EFI FLSTCI : 2005–2006
Softail Heritage Classic Shrine FLSTC : 2009–2013
Softail Heritage FLST : 2000–2006, 2008–2010
Softail Heritage Springer Classic EFI FLSTSCI : 2005–2006
Softail Night Train EFI FXSTBI : 2001–2006
Softail Night Train FXSTB : 2000–2009
Softail Rocker C FXCWC : 2008–2011
Softail Rocker FXCW : 2008–2009
Softail Slim FLS : 2013
Softail Springer CVO FXSTSSE : 2007
Softail Springer CVO FXSTSSE2 : 2008
Softail Springer CVO FXSTSSE3 : 2009
Softail Springer FXSTS : 2000–2006
Softail Standard EFI FXSTI : 2001–2006
Softail Standard FXST : 2000–2010, 2012–2013
Softail Standard International FXST : 2011
Sportster 1100 Electric Start Anniversary XLH1100 : 1987
Sportster 1100 Electric Start XLH1100 : 1986–1987
Sportster 1200 50th Anniversary XL 50 : 2007
Sportster 1200 CP XL1200CP : 2012
Sportster 1200 Custom XL1200C : 1995, 2005–2013
Sportster 1200 Custom XL1200C Anniversary : 2013
Sportster 1200 Custom XLH1200C : 1996–2004
Sportster 1200 Forty-Eight XL1200X : 2010–2013
Sportster 1200 Low XL1200L : 2006–2011
Sportster 1200 Nightster XL1200N : 2007–2012
Sportster 1200 Seventy-Two XL1200V : 2013
Sportster 1200 Sport XLH1200S : 1996–2003
Sportster 1200 Standard XL1200 : 2006
Sportster 1200 Standard XLH1200 : 1988–2003
Sportster 883 Iron XL883N : 2009–2013
Sportster 883 Low XL883L : 2005–2011
Sportster 883 Police XL883L : 2013
Sportster 883 Roadster XL883R : 2005–2012
Sportster 883 Roadster XLH883R : 2002–2003
Sportster 883 Shrine XL883 : 2006
Sportster 883 Standard XL883 : 2004–2009
Sportster 883 Standard XLH883 : 1986–2003
Sportster 883 SuperLow XL883L : 2012–2013
Sportster Custom Limited A XL1200CA : 2013
Touring Electra Glide Classic CVO FLHTCSE : 2004
Touring Electra Glide Classic CVO FLHTCSE2 : 2005
Touring Electra Glide Classic Shrine EFI FLHTCI : 2004–2005
Touring Electra Glide Fire/Rescue FLHTP : 2013
Touring Electra Glide Police EFI FLHTPI : 2005–2006
Touring Electra Glide Police Shrine EFI FLHPEI : 2006
Touring Electra Glide Standard EFI FLHTI : 2003–2006
Touring Electra Glide Standard FLHT : 1999–2009
Touring Electra Glide Ultra Classic CVO Anniversary FLHTCUSE8 : 2013
Touring Electra Glide Ultra Classic CVO EFI FLHTCUSE : 2006
Touring Electra Glide Ultra Classic CVO FLHTCUSE2 : 2007
Touring Electra Glide Ultra Classic CVO FLHTCUSE3 : 2008
Touring Electra Glide Ultra Classic CVO FLHTCUSE4 : 2009
Touring Electra Glide Ultra Classic CVO FLHTCUSE5 : 2010
Touring Electra Glide Ultra Classic EFI FLHTCUI : 1999–2006
Touring Electra Glide Ultra Classic Firefighter FLHTCU : 2010, 2013
Touring Electra Glide Ultra Classic FLHTCU : 2007–2013
Touring Electra Glide Ultra Classic FLHTCUI : 2005
Touring Electra Glide Ultra Classic Peace Officer FLHTCU : 2010, 2013
Touring Electra Glide Ultra Classic Police EFI FLHTCUI : 2006
Touring Electra Glide Ultra Classic Shrine EFI FLHTCUI : 2004–2006
Touring Electra Glide Ultra Classic Shrine FLHTCU : 2010, 2013
Touring Electra Glide Ultra Classic Side Car FLHTCUI : 2004–2005
Touring Electra Glide Ultra Limited Anniversary FLHTK : 2013
Touring Electra Glide Ultra Limited FLHTK : 2010–2013
Touring Road Glide Custom CVO Anniversary FLTRXSE2 : 2013
Touring Road Glide Custom CVO FLTRXSE : 2012
Touring Road Glide Custom CVO FLTRXSE2 : 2013
Touring Road Glide Custom FLTRX : 2010–2013
Touring Road Glide CVO FLTRSE3 : 2009
Touring Road Glide EFI CVO FLTRSEI : 2000
Touring Road King Classic EFI FLHRCI : 1999–2006
Touring Road King Classic FLHRC : 2007–2013
Touring Road King Custom EFI FLHRSI : 2004–2006
Touring Road King Custom FLHRS : 2004–2007
Touring Road King CVO Anniversary FLHRSE5 : 2013
Touring Road King CVO EFI FLHRSEI : 2002
Touring Road King CVO EFI FLHRSEI2 : 2003
Touring Road King CVO FLHRSE3 : 2007
Touring Road King CVO FLHRSE5 : 2013
Touring Road King EFI FLHRI : 1999–2006
Touring Road King Fire/Rescue FLHP : 2013
Touring Road King Firefighter FLHR : 2010, 2013
Touring Road King FLHR : 1999–2013
Touring Road King FLHR Anniversary : 2013
Touring Road King Peace Officer FLHR : 2010, 2013
Touring Road King Police FLHP : 2007–2013
Touring Road King Police Special EFI FLHPI : 2006
Touring Road King Shrine EFI FLHRI : 2004–2005
Touring Road King Shrine FLHR : 2009–2010, 2013
Touring Street Glide CVO FLHXSE : 2010
Touring Street Glide CVO FLHXSE2 : 2011–2012
Touring Street Glide EFI FLHXI : 2006
Touring Street Glide FLHX : 2006–2013
Tri Glide Street Glide Trike FLHXXX : 2010–2011
Tri Glide Ultra Classic FLHTCUTG : 2009–2013
Tri Glide Ultra Classic Shrine FLHTCUTG : 2013

NGK spark plug for the 80hp Rotax 912

Also the 130hp and 160hp Limbach L2400