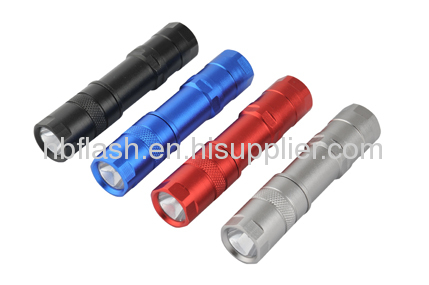 Super Bright Flashlight 0.5watt
1.Aluminum Body
2.Product Size 90*Φ18 Mm
3.0.5watt Supper Bright Led 1pc 25 Lumens.
4)Black ,Blue,Red Color And Other Color Available.
5)Push Button On/Off Switch On Tail Cap.
6)Use 1xaa Battery.
7)Nylon Wrist Strap.
8)Great For Home,Office,Automobiles,Camping,Outdoor Activities,Etc.
9)Battery Replacement
1.Unscrew The Head Of The Flashlight
2.Replace Battery.
3.Re-Screw Head Back Onto Flashlight.
10.Competitive Maglite Surefire Brand To Improve Our Quality.
Package:Double Blister
QTY/CTN:72
CTN SIZE(CM):66.5*19*37.5
G.W.(KGS):6.5
N.W.(KGS):5.8