DVB- receiver 800 HDX1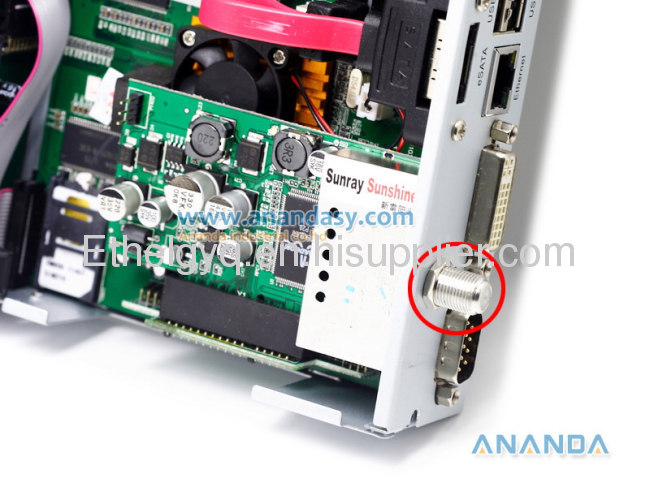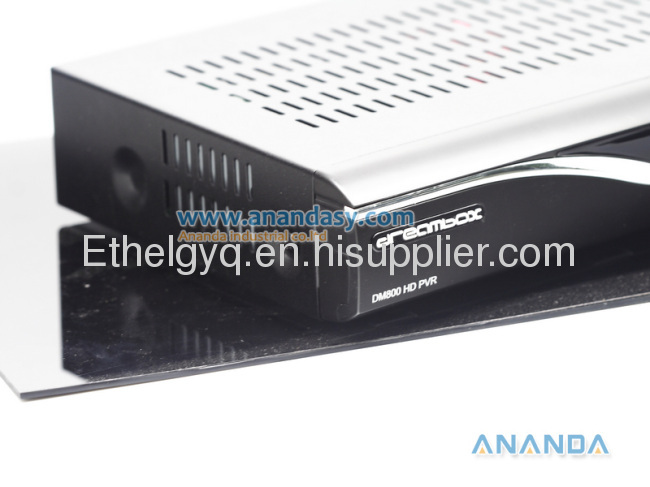 Using the DM800SE's Tuner(BCM 4505 Tuner) which is better than DM800HD's tuner.
SIM 2.1,84 bootloading and Gemini 5.1.Depeds on the technology you can control it.
300 MHz MIPS Processor
Linux Operating System
OLED - Display
MPEG-2 / H.264 Hardware decoding
Tuner: DVB-S
Tuner Module, Plug&Play
1 x Smartcard-Reader (Dreamcrypt CA)
V.24/RS232 Interface
10/100Mbit Ethernet Interface
1 x Scart (RGB, FBAS or S-Video)
DVI
2 x USB 2.0
analog modem
S/PDIF Interface for digital bit stream out (AC-3)
64 MByte Flash, 256 MByte RAM
SATA
For use either as internal SATA HDD 2,5
Or to use for extern eSATA
Unlimited channel lists for TV/Radio
Channel-change time < 1 second
Automatic service scan
Directly bouquet-lists
EPG (electronic program guide)
Multiple LNB-Switching control (supports DiSEqC)
OSD in many languages and skin-support
Videotext Decoder
Extern 12V power supply
DBS-Tuner mit DVB-S2:
Frequency Range 950.... 2150 MHz
Demodulation DVB-S (QPSK); DVB-S2 (8PSK,QPSK)
Symbol rate DVB-S: 2 ... 45 Mbaud/s, SCPC/ MCPC
DVB-S2: 10 31 Mbaud/s (8PSK) , 10 30 Mbaud/s (QPSK)
Video decoder:
Video Compression MPEG-2 and MPEG-1 compatible, H.246
Video Formats 4:3 / 16:9
Letterbox for 4:3 TV-Devices
Audio decoder:
Audiokompression MPEG-1 & MPEG-2 Layer I and II, MP3
Audio Mode Dual (main/sub), Stereo
Frequency: 32 kHz, 44.1 kHz, 48 kHz, 16 kHz, 22.05 kHz, 24 kHz
Output analog:
Output Level L/R 0,5 Vss on 600 Ohm
THD > 60 dB (1 kHz)
Crosstalk < -65 dB
Output digital:
Output Level 0,5 Vss on 75 Ohm
Sampled Data Filtering 32 kHz, 44.1 kHz, 48 kHz
S/PDIF-Output optical, Toslink
Ausgang Video:
Ausgangspegel FBAS 1 Vss +/- 0.3 dB an 75 Ohm
Video parameter:
Input Level FBAS 1 Vss +/- 0.3 dB on 75 Ohm
Teletext filter in conformity with ETS 300 472 Standard
TV-Scart:
Output: FBAS, RGB, S-Video
Serielle Interface RS 232:
Typ RS232 bidirectional
Bitrate 115,2 kBit/s max.
Plug Connector SUB-D-9
Function: Update of Firmware
Ethernet:
10/100 MBit compatible interface
Function: Update of Firmware
Analoge modem:
analoge modem for Internet connection
SATA Interface:
- for use either as internal HDD 2,5 or eSATAor internal 2,5" HDD
USB
2 x USB 2.0 Host
LNB power and polarisation per tuner:
LNB Current 500mA max.; short-circuit-protected
LNB Voltage vertical < 14V no load, > 11,5V at 400mA
LNB Voltage horizontal < 20V no load, > 17,3V at 400mA
Count of active satellite position:
DiSEqC 1.0/1.2 SAT POSITION / SAT OPTION
DiSEqC - Rotor Control
Power consumption:
< 15W at 12V
External PSU
Input:
110-240V AC / 50-60Hz / 0,6A
Output:
12V = / 3,0A