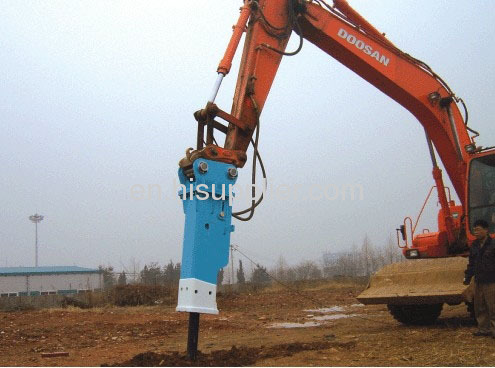 SILENCED TYPE STANDARD SPECIFICATION

Item / Model

Unit

JSB400

JSB900

JSB1600

JSB1900

JSB2800

JSB3500

Total Weight

Kg

254

853

1679

1898

2455

2650

Overall Length

Mm

1270

2260

2695

2810

2895

3310

Operating Pressure

Kg/cm2

110-140

150-170

160-180

160-180

160-180

160-180

Required Oil Flow

L/min

25-45

80-120

120-160

130-170

150-190

170-220

Impact Rate

Bpm

500-900

400-700

400-700

400-600

350-500

250-400

Hosepipe Diameter

Inch

1/2

3/4

1

1

1

1

Rod Diameter

Mm

68/70

100

135

140

150

155

Suitable Excavator

Ton

3.0-5.5

11-16

19-26

19-26

27-38

28-40
Advanced Breaking Technology
a. Leading heat treatment technology. Enhance the performance of heat resistance and abrasion resistance.
b. Low oil consumption design. Reduce the oil cylinder volume and lessen the fuel consumption under the condition of guaranteeing oil pressure invariable.
c. Machine durability design. The piston adopts ring oil passage design to reduce the obstruction, making piston cylinder body more durable; The resilience minimization design protects the machine to extend the working life.
d.Deck durability design. The naked deck adopts steel plate to decrease wear.
e. Oil seal durability design. The face increased pressure in the oil seal is designed to return oil passage, reduce oil seal pressure, and improve oil seal service life.
f. Lightweight design. Achieve the best match with excavators and loaders.
g.
Low noise. In the city whose noise is limited, choose low-noise bracket breaker, which reduces noise effectively through the damping rubber cushion and seal box.