outboard marine:FORCE SUZUKI
outdoor power equipment:MAKITA ROBIN WHEEL HORSE
power equipment engines.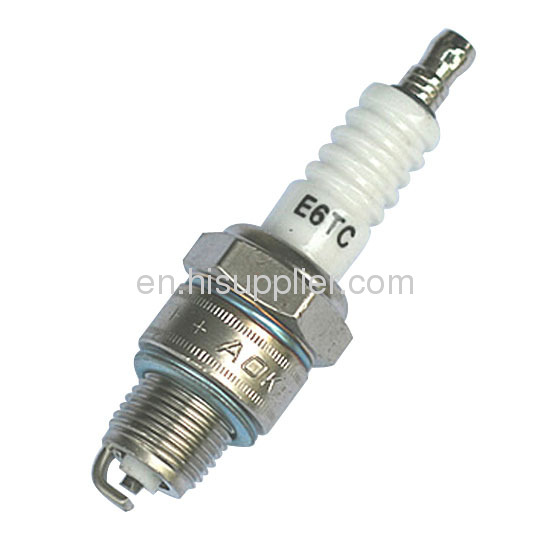 Details about NGK BP6HS:
Threaddiameter: 14mm
Threadreach: 12.7mm
Seattype: flat
Hexsize: 21mm
Tipconfiguration: projected
Construction: Standard construction
Terminaltype: Removable
Possible spark plugs:
AC Delco R43FS
AC Delco 43FS
AC Delco 42-6FS
AC Delco 43FFS
AC Delco 42FS
AC Delco R43CFS
AC Delco 426FS
AC Delco C42CFS
Autolite 4113
Autolite 273
Autolite 4114
Autolite 274
Beck Arnley 176-5073
Beru 146BU
Beru 14-6B
Beru 14-6BU
Beru Z10
Beru 14-7BU
Beru 200/14A
Beru Z 48
Beru 1440700
Beru 147BU
Beru 14-7B
Beru Z48
Beru 175/14A
Beru Z 10
Beru 1435700
Bosch W7BC
Bosch W175T35
Bosch W6BP
Bosch W6B
Bosch 0 241 235 564
Bosch W7B
Bosch W7BP
Bosch WR7BC+
Bosch W200T35
Bosch 0 241 240 532
Bosch W6BC
Brisk N15YC
Brisk N15Y
Brisk N14Y
Champion L82YC
Champion OE104
Champion OE038/T10
Champion L66Y
Champion OE104/T10
Champion OE038
Champion L87YC
Champion L82Y
Champion OE070
Champion OE007/T10
Champion L82YCC
Champion OE070/T10
Champion PL9YC
Champion L87Y
Champion OE007
Champion L87YCC
Champion L85Y
Champion stk 312
Daihatsu 9993409685100
Daihatsu 99934-09685-100
Daihatsu 999-3409-6911-00
Daihatsu 99934-09691-100
Denso 3068
Denso W20FP
Denso W20EP-U
Denso W17FP
Denso IWF20
Denso W20FPU
Denso W20FP-U
Denso stk 3068
Denso stk 3043
Eyquem 750
Eyquem 775SX
Eyquem 406
Eyquem 705S
Eyquem 755S
Eyquem C42S
Fiat 7554445
General Motors 5613263
General Motors 5613526
General Motors 5613099
Honda 98076-56719
Honda 98076-56721
Honda 98076-56719-02
Iskra F65PS
Iskra F65CP
Isolator 6B
Isolator 7B
KLG F85P
KLG F65P
KLG GT6
Kubota 13901-6771-6
Kubota 13902-6771-1
Lodge HNY
Magneti Marelli CW7NP
Magneti Marelli 061830176304
Magneti Marelli 062000754304
Magneti Marelli CW6NP
Magneti Marelli F7NC
Magneti Marelli 062000654304
Magneti Marelli CW67N
Marchal Valeo 5N
Marchal Valeo GT34 / 5
Marchal Valeo 35 / 1
Marchal Valeo 35 / 1D
Marchal Valeo 5NCYCLO
Marchal Valeo GT34 / 5D
Marchal Valeo 35 / 1B
Motorcraft AE22C
Motorcraft AV22CU
Motorcraft AE32C
Motorcraft AE32
Motorcraft AE22
Motorcraft stk 58
Napa X936
NGK stk 7331
Prestolite 1,4E+33
Prestolite 1,40E+053
Prestolite 1,4E+43
Renault 77 00 587 168
Renault 77 01 366 267
Renault 77 01 366 057
Renault 77 01 366 515
Torch E6TC
Toyota 90098-20515
Unipart GSP4366
Unipart GSP2056
Unipart GSP6356
Unipart GSP4356
Unipart GSP541
Yamaha 94701 00108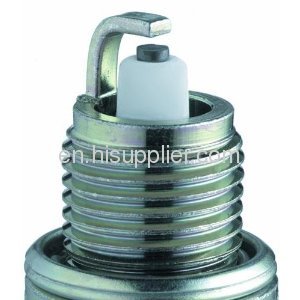 Spark plug for your two stroke scooter NGK Spark Plug BP6HS
This is the best plug for the two stroke chinese made scooters.
MEG is the leader in Motorcycle Spark Plugs, with spark plugs for virtually every Motorcycle, ATV, and Scooter application in the world. Utilizing a wide variety of materials, from standard copper-core type to Iridium, MEG is the leader in spark plug engineering and technology.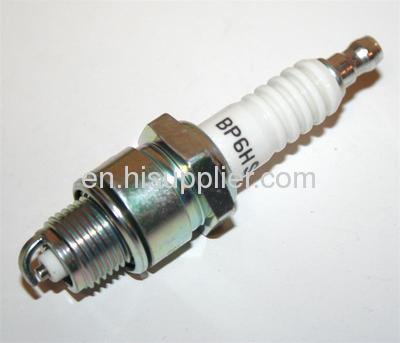 MEG E6TC(NGK BP6HS) Spark Plug
A true high performance plug for an actual increase in performance. Rarely would we claim that a spark plug will increase performance, but we know if the original plug is defective, getting a proper plug will of course help. The MEG E6TC goes a step beyond that, with an extended tip, it centers the spark in the combustion chamber and actually displaces volume, effectively increasing compression ratio. An added benefit is with the protruding electrode the plug is even more foul proof than the standard E6C. Also, the 6 is a cooler heat range for those hard max throttle runs. A really great spark plug for your modified 67cc engine.

Note: This plug may not be for all engines. It has not been evaluated in all engines. It may cause piston contact in 49cc engines and others. If you have removed head or cylinder sealing surface material or use no or a thin head gasket there may be piston contact. The purchaser is responsible for evaluation of this plug prior to purchase.
This Yamaha Yamaha NGK BP6HS-10 SPARK PLUG part is also used on these models and components:
1986 CE50ES CYLINDER

1986 JOG - CE50S CYLINDER

1987 CE50ET CYLINDER

1987 JOG - CE50T CYLINDER

1987 RAZZ - SH50MT CYLINDER HEAD CYLINDER

1987 RAZZ - SH50T CYLINDER HEAD - CYLINDER

1987 SH50EMT CYLINDER HEAD - CYLINDER

1988 RAZZ - SH50MU CYLINDER HEAD - CYLINDER

1988 RAZZ - SH50U CYLINDER HEAD - CYLINDER

1989 RAZZ - SH50MW CYLINDER HEAD - CYLINDER

1989 RAZZ - SH50W CYLINDER HEAD - CYLINDER

1990 RAZZ - SH50A CYLINDER

1990 SH50MA CYLINDER

1991 RAZZ - SH50B CYLINDER

1992 RAZZ - SH50D CYLINDER

1992 RAZZ - SH50MD CYLINDER

1993 RAZZ - SH50E CYLIINDER

1994 RAZZ - SH50F CYLINDER

1995 RAZZ - SH50G CYLINDER

MEG SPARK PLUG PROMOTIONAL ITEMS: