Description:
· Air Treatment Units are auxiliary components in pneumatic automation system, they are mainly used for treating air source from air compressor, making the air clean dry with stable pressure and lubricated.
· The Air Treatment Unit have the functions of air filter, air regulator and air lubricator.
A Series Air Units are similar to SMC A series Air Preparation units and are our most popular style air units with higher flow rates,simple assembly and maintenance reduces down time.
A series Air Treatment Units are available for 8 sizes options from M5 to 1 to ensure optimum performance,offering energy savings,A series Air Treatment Units are a good replacement for SMC Air Units,Air Filter+Air Lubricator+Air Regulator.

AC FRL(AC1000~AC5000)
AC FR+L (AC1010A~AC5010A)
AW Filter Regulator (AW1000~5000)
AF Filter (AF1000~AF5000)
AR Regulator (AR1000~AR5000)
AL Lubricator (AL1000~AL5000)

* Clean looking, modular design
* Energy saving with high flow rate
* Compact spacer with bracket reduces total assembly space
* Optional pressure gauge,body size
* Rc(PT), G(PF) or NPT threads, port sizes: M5, 1/8"~1"
* Optional drain model
* Custom requirements
Ensured Pressure Resistance

1.5MPa(15kgf/cm²)

Highest Working Pressure

1.0MPa(10kgf/cm²)

Ambient and Fluid Temperature

5-60℃

* Filter Precision *

25 µm

Recommended Oil Use

Turbine NO.1 Oil ISOVG32

Container Material

Polycarbonate

Protective Cover

AC1000-2000(Not Available) AC2500-5000(Available)

Pressure Regulating Range

AC1000:0.05-0.7MPa(0.5-7kgf/cm²)
AC2000~5000:0.05-0.85MPa(0.5-8.5kgf/cm²)

Valve Type

With Overflow
Model

Specifications

Accessories

Assembly

Rated Flow
(L/min)

Port Size (G)

Pressure
Gauge Size

Weight
(kg)

Bracket

Pressure Gauge

Filter with pressure reducer

Mist Separator

AC1010-M5

AW1000

AL1000

90

M5

1/16

0.22

Y10T

G-27-10-R1

AC2010-01

AW2000

AL2000

500

1/8

1/8

0.66

Y20T

G36-10-01

AC2010-02

1/4

AC3010-02

AW3000

AL3000

1700

1/4

1/8

0.98

Y30T

AC3010-03

3/8

AC4010-03

AW4000

AL4000

3000

3/8

1/4

1.93

Y40T

G46-10-02

AC4010-04

1/2

AC4010-06

AW4000-06

AL4000-06

3000

3/4

1/4

1.99

Y50T

AC5010-06

AW5000

AL5000

4000

3/4

1/4

3.20

Y60T

AC5010-10

1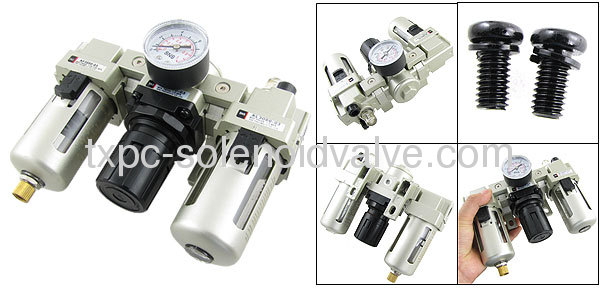 SMC AC Air Source Treatment Unit Filter Regulator Lubricator
3 in 1 Air Treatment Units Filter Regulator Lubricator Metal Body
Pneumatic Treatment Set Air Filter Regulator Lubricator F.L.R
A Series Air Preparation Unit FLR New Style