Air Control Solenoid Valves has been presented above, want more similar products, please click Air Control Solenoid Valves,pneumatic solenoid-valve,air control solenoid-valves.

The TXQDF series pneumatic valve is completely pneumatical. There's a pneumatic cylinder on the valve body and control the valve on/off. The valve body is big with orifice size 22mm and 50mm, and we only have 2 thread sizes for the valve, 2-1/8" and 2-1/4". The pneumatic valve is better for some places not suitable for electricity.

Working medium : air,water,oil,gas
Motion Pattern : Direct Drive Type
Aperture of Flow Rate : 15~100mm
Joint Pipe Bore : DN15~100
Operation Fluid Viscosity : below 50 CST
Working Pressure :0~7 kgf/cm2
Max.Pressure Resistance : 10.5 kgf/cm2
Control Presssure Range: 3~6 kgf/cm2
Operating Temperature Range : -5~100
Material of Body : Brass
Material of Oil Seal : PTFE
Control Joint Pipe Bore Of Actuator: 2-G1/8"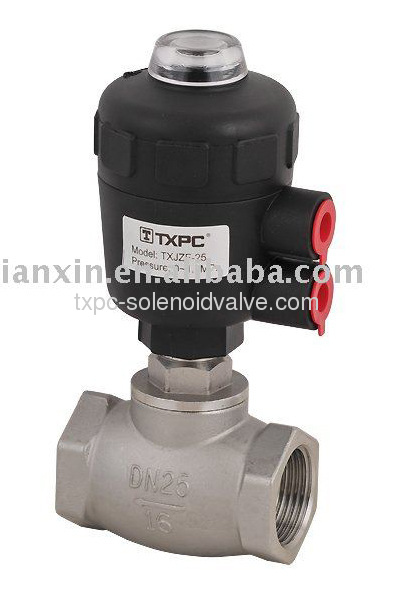 Air(Pneumatic) Control Solenoid Valves Water
Stainless Steel Pneumatic Water Valves
Water Angle Seat Valve SS