LSZ3000 wet spraying concrete machine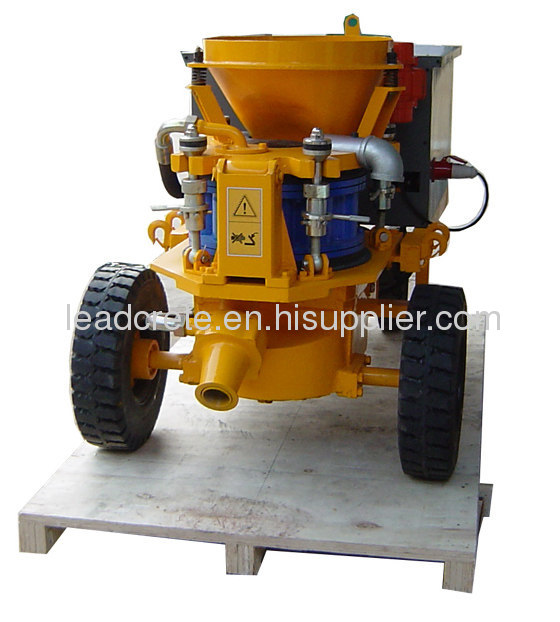 Wet-Mix Shotcrete Machine (LSZ3000)
Shotcrete Machine
Spraying Concrete Machine
Wet-Mix Shotcrete Machine
Wet-Mix Spraying Concrete
Gunite Machine
LSZ3000 Gunite Machine/ Shotcrete Machine
LSZ3000 is a universal concrete spraying machine for the processing of wet or dry mix.
The machine is suitable either for manual spraying or by means of a robotic arm.
LSZ3000 is developed for the application of shotcrete in tunnel building, mines and slopes. This machine has been designed especially for fibre spraying. And the dosing unit is combined with this machine.
Basic: Electric drive can be combined with tyre chassis.
Extended (optional):
Air motor drive or diesel drive combined with Skid or Rail-wheel
Specification (with Electric motor drive):

Rated Output

5m3 /h

Max. Horizontal Conveying Distance

35m

Max. Aggregate Size

15mm

Concrete Slump

8 -15cm

Conveying Hose Inner Diameter

51/ 64mm

Operating air Pressure

0.3-0.6MPa (43-86PSI)

Air Consumption

10~ 12m3 /min(357-430CFM)

Main Motor Power

7.5kW(10hp)

Dosing Pump:

BRJ15

Dosing Pump Rated Pressure

0.6MPa(86PSI)

Dosing Pump Output

17.5 -88L /h

Voltage

220V, 380V, 440V, 660V, 50Hz/60Hz

Material Charging Height

1.17m

Rotor Speed

11r/mi

Overall Dimension(L × W × H)

2.05× 0.95× 1.18m

Net Weight

1200kg