1) Overall features of sliding automatic door system:

(a) Microprocessor intelligent control system with adjustable parameters, advanced mechanical configuration.
(b) Work at a wide range of power, low power consumption, energy-saving.
(a) Low noise drive unit, simple and convenient installation.
(c) Advanced brushless motor and worm gear reducer integration, high efficiency, great torque, no powder pollution, quick in speed up and down, long service life.
(d) Safety sensor, ensure safe passage.
(e) Built-in microprocessor chip ensures the accuracy and precision of the operation.
(f) Can work excellently with fingerprint switch, remote control, push button, access keypad, safety sensor, digital wireless video, etc .
(g) Optional backup battery can ensure the normal operation in case of the power failure.


2) Technical specifications of sliding automatic door system:

Door style

Single-parting

Bi-parting

Door leaf width

600-1200mm

500-1100mm

Opening speed

100-500 mm/s(Adjustable)

100-500 mm/s(Adjustable)

Closing speed

100-500 mm/s(Adjustable)

100-500 mm/s(Adjustable)

Creep speed
30-100 mm/s(Adjustable)



Motor

24V brushless DC motor

Hold open time

0-9second(Adjustable)

Safety feature

reverse upon an obstruction

Power supply

AC220V, 50Hz-60Hz

Operating Temperature

-20°C~50°C


















3) Main components of sliding automatic door system:

| | |
| --- | --- |
| Motor | 1 |
| Controller | 1 |
| Microwave motion sensor | 2 |
| Driven wheel / Idler pulley | 1 |
| Connector | 1 |
| Hangers | 4 |
| Link span(left) | 1 |
| Link span(right) | 1 |
| Stopper | 2 (left/right) |
| Belt tensioner | 1 |
| Fastenings | 1 set |
| Aluminium beam | 2×2.1m |
| Glass clamp | 1 |
| Installation Manual & Warranty Card | 1set |


4) Schematic view of sliding automatic door system: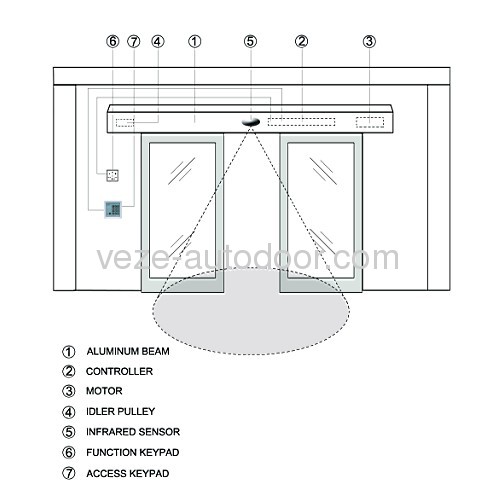 5) Picture of sliding automatic door system: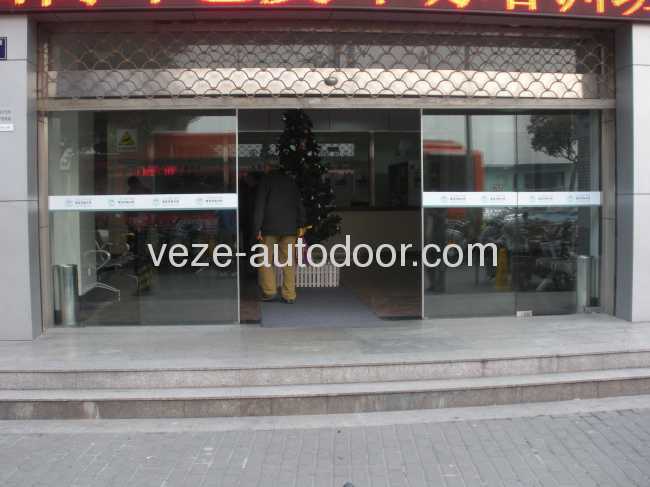 Safety Certification
Our products have certificates of CE, UL, ROHS, TUV, CCC to meet strict requirements of different countries. We also have the certificate of ISO9001(Quality Management System)

R&D Team and Manufacturing
VEZE has established special R&D department, Tooling department, Testing department, Assembling department, and Packing department. Meantime, in order to guarantee the quality of product, we purchase the imported high-quality machine from USA & Germany. The PCB of the controller are printed precisely by the SMT machine, the motor are coiled by the automatic coil winding machine. From the testing procedure, all the types of controllers and electronic parts will stay in power for more than 36 hours to check whether all electronic devices work well, each motor needs to pass the severe testing before selling, hardware will be checked under the strict QC system. So that our enterprise could supply products with good quality and competitive price.

Sales & Services
VEZE Automatic Door Co., Ltd takes Quality, Efficiency and Service as the motto. So we provide 24 months warranty. During the warranty period, we can replace the parts of problem with new ones for free.
VEZE have the most dedicated international service team. If you have any question or meet any problem, please feel free to contact us at any time, we'll reply you and help to solve the problem at the soonest.

OEM&ODM Service
We have professional design team, which can rebrand the customer's logo and company name as per customer's wishes.

VEZE will never stop the pursuit of innovation with style. VEZE Automatic Door Co., Ltd would develop more innovative and market-oriented products in the future.