Outdoor Speed Dome Camera IGV-PTZ11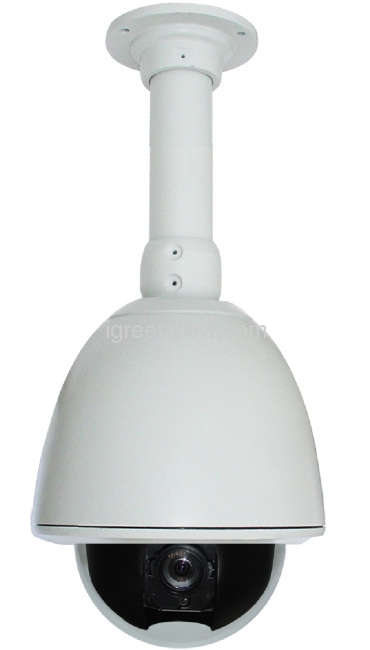 Features
:
1,Low power consumption design, fast installation and disassemble structure, support hot plugging.
2,Pan 360° continuously, tilt 90° rotation,auto-flip,manual speed:0.4°~320°/s.
3,
Humanize focus and speed proportion.

4,
128 presets (titles can be set); Tour is based on presets; Speed & park time of presets can be set.
5,
8 programmable zones(titles can be set); 4 pattern, each record time is more than 180 seconds
6,
4 scan, support camera scanning repeatly between right limit and left limit at an appointed speed.
7,
Built-in OSD menu, can change information and parameter of dome through menu, also can set and call
8,
Park action function, can auto-call presets or start-up tour, pattern and scan after dome idle for a period of time
9,
Real time function, preset, scan etc action runs based on time sections pre-setting by OSD menu.
10,
Memory store function, built-in memorizer which can store parameters of camera & functions of PTZ.
11,
Temperature display function, can survey the temperature inside of dome.
12,
Fan enable function, through pre-setting the temperature to start-up the fan.
13,
Display function of Pan/tilt position and zoom
14,
Privacy masking zone, you can set masking frame to protect privacy when there is a private zone display on screen.
15,
Communication (support Rs485, Manchester, BI-PHASE code, coaxial video control).
16,
Built-in multi-protocols and fully compatible with PELCO-D\PELCO-P\KALATEL, VICON, BOSCH(PHILIPS), SENSORNT, AD, VIDO B02 etc.
17,
IP66 all-day protection cover, built-in constant temperature device.
18,
Built-in TVS4000V lightning-proof, surge-proof and wave-proof.


Specification
:
Manual speed

Pan(0.4°~320°/s)

Tilt(0.4°~150°/s)

Preset speed

420°/S

Rotation

Continuously 360°;tilt 0~90° with auto-flip

Speed Proportion

As the length of focus, to auto-adjust the speed

Preset

128 preset, title can be edited

Auto-flip

Tilt down 90°, with auto-flip 180°

Scan

355° programmable ,4 scan

Display zone

8 programmable zones with titles

Alarm function

7 alarm input/2 alarm output(Optional)

Sync Model

Internal

Decoder

Built-in

Video output

Female BNC

Romote controlling

RS485/422 BUS\Manchester \BI-PHASE\Coaxial Video Control

Baud rate (RS485)

2400/4800/9600/19200 bps

ID range

1~254

Temperature

Indoor -10℃~+50℃;Outdoor -40℃~+60℃

Humidity

0~95%(Non-condensation)

Protection grade

IP66, TVS4000V lightning-proof, surge-proof, all-day defend cover

Power supply

AC 24V ±4V

Power consumption

Indoor 10W Outdoor 50W

Dimension(D×H)

Φ231×270(H)mm ( Model: IGV-PTZ11 Outdoor)

Φ245×252(H)mm(Model: IGV-PTZ11 Insert)

Φ199×217(H)mm (Model:IGV-PTZ11 Ceiling)

Net weight

3.9kg (Model:D85 Outdoor) 1kg(Wall bracket)

2.1kg (Model: IGV-PTZ11 Insert)

1.7kg (Model:IGV-PTZ11 Ceiling)